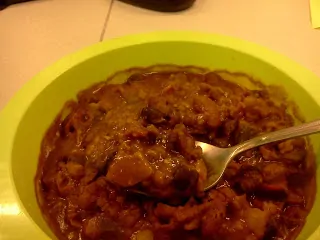 Before we start, have you entered yet to win yourself a FREE canister of Click Decaf? Yes? Ok, good. Let us proceed!
Look closely at that bowl of chili above. REALLY stare at it.
It doesn't look that out of the ordinary does it? Sure, it has a few more veggies than regular chili but besides that, pretty standard fare, right?
Well what if I told you this bowl of chili has absolutely NO meat products in it. And what if, after that, I told you that even without meat products this bowl of chili has just about as much protein as a bowl of meat chili? Would you believe me???
(I would hope so. Have I ever lied to you?)
This chili recipe came about by accident. Long story short: I've just moved. Haven't bought new microwave. Forgot to thaw meat. Needed dinner. See? I can practice brevity!
The REAL story here is that I sort of…er…neglected to tell La Grande Diva (i.e. the "meat and potatoes" kid) that this had no meat and…she could not tell! Success!
For real, though, if you have trouble with meat, give this recipe a try. You'll be glad you did.
Nik's "Kick Arse" Veggie Chili
Ingredients:
2 c. TVP (if you're going "what is TVP?", click here)
4 c. water, halved
Onion powder, garlic powder, salt and pepper to taste
1 medium onion, diced
1/2 an eggplant, skinned (if desired, I did not) and diced
1 zucchini, diced
1 yellow squash, diced
1 clove garlic, minced
1 can diced tomatoes, drained of canning liquids
1 can black beans, drained of canning liquids
1 can light red kidneys, drained of canning liquids
1 can dark red kidneys, drained of canning liquids
3 tbsp chili powder
1 tbsp unsweetened cocoa powder (yes, I said cocoa powder)
If you, like me, like it spicy: 1/4 tsp. cayenne pepper
Directions:
In a large bowl, combine 2 cups of water with as much onion powder, garlic powder, salt and pepper as you would usually use to season ground meat. Then add your TVP and let it sit for about 20 minutes to completely rehydrate.
Meanwhile, you're chopping your veggies (Unless you, like me, actually prep up veggies on a weekly basis. But not many of you are that neurotic, are you?).
Spray down a pot well with nonstick cooking spray and let it heat up. Add the onions, squash, eggplant and any other diced veggies you deem worthy! Sautee until softened then add the garlic.
Stir in your beans, your tomatoes and, lastly, your rehydrated TVP and stir very, very well.
Add in your spices and the remaining water as it takes to achieve a slightly soupy texture.
Bring the whole thing to a boil and then drop it down to a simmer for about 20 minutes or so.
This, like many other recipes, tastes SO much better the next day. I am not even kidding.
And although
I usually do NOT do this
, I am posting stats on this (which you can also view
here
as a complete nutrition label…although disregard the sodium numbers as there was no way to track beans and tomatoes that have been washed of all the sodium in the canning liquids!) so you can see for yourself that yes, this does actually pack quite a protein punch. For MY version, using MY ingredients, an 8 oz. serving (which is what I can eat) comes out to:
247 calories
1.5g fat
35g carbs
13g fiber (so 22g carbs)
22.5g protein
And most importantly, it is yummy! I mean look at it…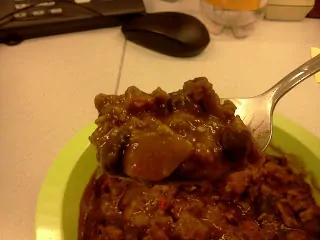 Mmmmmm! Couldn't that just be YOUR dinner tonight?