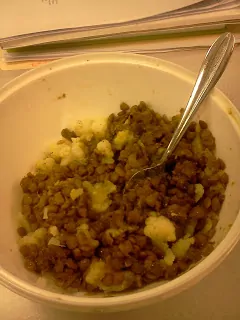 Not the most beautiful pic in the world, but it was honest!
Obligatory disclaimer: This week, in an attempt to get a glimpse of the day-to-day lives of the world's poorest people, I have committed to setting my food budget for five consecutive days at $1.50 a day. I am four years post-op and have sufficient body fat to do this. I consulted my physician who, while not totally thrilled, is supportive. Do not try something like this without first consulting your medical team and DO NOT TRY THIS IF YOU ARE LESS THAN A YEAR POST-OP. K?


Let's do this shall we?
As one might expect (or maybe not if you are like me and never even thought about this stuff before), a daily food budget of $1.50 does not afford the opportunity for a great many meals. Especially if you want those meals to be even remotely healthy.
I tried every which-a-way I could to get three meals into my day. It didn't work. Had to ditch one meal and decided it would be breakfast. I am terribly inconsistent with breakfast, sometimes not even eating it until about 11 a.m., so I figured of all meals that'd be the easiest. Still there are just two modest meals on my plan today:
Curried lentils with cauliflower rice (pictured). Cost: 70 cents per serving the way I made it (more on that below.
Two eggs w/ some sauteed onions (not sure of the preparation yet). Cost: 54 cents.
Two drink sticks for my water. Cost: 20 cents
This brought me to a total of $1.44 for the day. With my spare six cents I intend to put salt and pepper on my food!
A few notes:
I originally had three eggs in my dinner but then I realized I forgot about water flavorings. I don't tolerate plain water well even to this day so I decided to invest in two drink sticks to ensure I get at least 40 oz. of water today so at least I would not be hungry AND dehydrated.
Some of my friends on Facebook offered to feed me during these days. While I love you for that (and I do!) the point of this exercise is to experience something of the trials of the truly, extremely poor. They don't have the option to go to a friend's house to have a generously prepared dinner so neither do I. But remember me on Saturday when this whole thing is over, k?
So as I said I made my curried lentils with a few modifications. I did not use broth but instead 1/2 of my onion (see this video for the size of the onion!) with a clove of minced garlic and salt and pepper for seasoning base. I also skipped the peanut flour (so I made regular curry, not peanut curry). I served myself one cup of that over 1/2 c. of cauliflower rice.
Dinner is at six. I anticipate I'll be chomping at the bits by then. Stay tuned this evening for a short video about my day one impressions and remember that I am
Facebooking
and
Tweeting
my experience (look up the hashtag #HungryNik for tweets specifically relating to this exercise).
Oh! I forgot something. My caloric tally for the day is about 420 calories, 32g protein. I'm going to do some research tonight on how a prolonged diet of these stats might affect the human body and will report back in my video, so stay tuned!