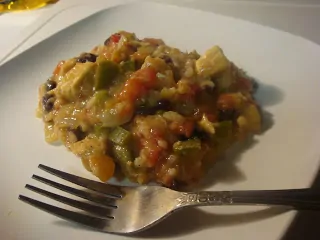 Cinqo de Mayo is almost here and I promised you some fun recipes. This is one. The other is a dessert (the divas finally finished off the last of the Easter treats…woot!) which I'll share probably tomorrow (but it's quick and easy enough that I reserve the right to post it on Thursday).
Tonight's offering can be a one skillet dinner if you happen to have some cauliflower rice hanging around (and by the way, yes you can freeze cauliflower rice). If not, one skillet, one pot but still very quick and easy!
Nik's Fiesta Chicken and "Rice" Skillet
Ingredients
1 lb. chicken breasts, cooked and cubed
1 bag cauliflower florets, cooked and mashed (or 2 c. cauliflower rice)
1 small onion, finely diced
1 green pepper, finely diced
2 cans tomatoes and chiles (whatever heat intensity you like)
1 can black beans
1 can cheddar cheese soup
2 tbsp tomato paste (if you don't have it you can skip this but it does add zip)
1 tsp minced garlic
1/4 tsp each ground coriander and ground cumin
Directions
Spray down a skillet with nonstick and throw in your onions and peppers. Sautee until softened then add garlic and spices and mix well.
Add tomatoes and chiles, tomato paste and chicken cubes and allow to simmer until the liquid is reduced by about half. (Maybe 5 minutes or so)
Add in your drained black beans (don't forget to rinse them when you drain them from the can to get that extra sodium off!) and cauliflower rice. Stir well. At this point you have a big ass skillet of food. I probably should have mentioned this earlier but…use a big skillet!
Finally, add in cheese soup and stir well. Allow mixture to simmer on low-medium heat for about ten minutes or until warmed through. Serve hot!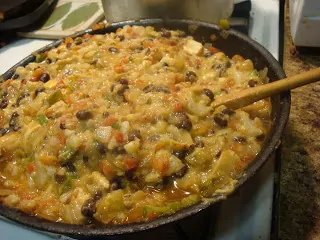 Now this is one of those dishes that will make your kids heads explode. Because they won't want to like it. It's got all the makings of something they'll absolutely hate…until they taste it and love it.
You may very well ruin them for junk food forever…you bad parent you!