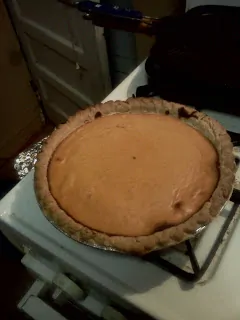 Don't mind the browned crust. Me and my oven are going through a divorce.
Sniff…
"Well, it looks like regular sweet potato pie…"
Holds plate closer to nose and sniffs again.
"Smells like it too…"
Pokes with finger then tastes fingertip.
"C'mon, Nikki, what'd you do to it? You wouldn't be asking me to taste it if you didn't do something to it."
This is a variation on the conversation I have with any of my non-op friends and family anytime I ask them to try out a recipe I've made for this blog. And in the end they always like what I gave them. And no…I never do tell them that I've added protein powder, or replaced some of the cream cheese with cottage cheese or sour cream with Greek yogurt.
So far as they know, it's just good.
Here's my recipe for sweet potato pie that passed the bar of even the biggest skeptics in my family.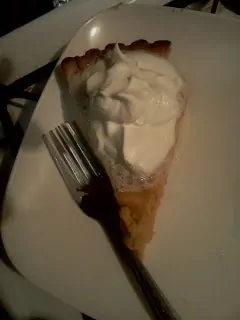 I like mine warm from the oven with cool whipped cream on top…hence the bubbles!
Nik's "Amp'd" Sweet Potato Pie
(makes two pies – one for now, one for later!)
4 large sweet potatoes
1 + 1/3 c. no-calorie Splenda (don't use Splenda? Any no-cal sweetener will do but check with the manufacturer to determine how much to use. Splenda measures cup-for-cup like sugar so you can take the amount of Splenda I use here as a guide for your conversions)
1 tsp. pumpkin pie spice
1 egg (or ¼ c. Egg Beaters)
1 can fat-free evaporated milk
Directions:
Pre-heat your oven to 350.
I hate peeling potatoes! So I always boil the sweet potatoes with the skins on and then allow hem to cool. The skins fall right off. Once cooked (and you want them "fork soft" like you'd prepare potatoes for mashing) and peeled, mash your sweet potatoes with a potato masher.
Add sweetener, spice and protein powder, along with your egg. Beat the mixture with a hand mixer on medium speed, making sure to scrape down the sides to get it all smooth.
Next, add the evaporated milk and mix again on low speed.
Pour into any pie shell you want (I typically get a storebought one). Then wrap the outer crust in aluminum foil to avoid burning.
Bake for about 15 minutes or until pie is almost completely set. Remove aluminum foil from outer crust and bake another 5-7 minutes or until center of the pie is set.
The will be smooth, shiny and slightly stiff on the surface…no worries! When it cools, it looks, feels and tastes like a traditional pie!
This recipe goes out to all my sweet potato pie eaters! We talk so much about pumpkin this and pumpkin that and from my experience you are either a sweet potato pie lover or a pumpkin pie lover. I've met few people who loved both. So while everyone else is killing their pumpkin pie, you can have this!
NEWBIES: If you'd like to enjoy this treat, you can too. I suggest halving the recipe (use 2 scoops of protein powder if you halve and still use one egg, but cut everything else in half) and bake them in ramekins, much the same way I made my protein pumpkin custards a few weeks ago.
Aaaaaand….if you'd like more WLS-friendly holiday recipes than you can shake kettlebell at (wait…), check out The Bariatric Foodie Holiday Survival Guide! It's got all your holiday favorites – from Thanksgiving to New Years – with fewer carbs and more protein! Plus there's a whole section in there about how to deal with the stress of the holidays. Like…everyone telling you you've "lost too much" when you're still 17 lbs. from goal!!!
Snag your copy today!