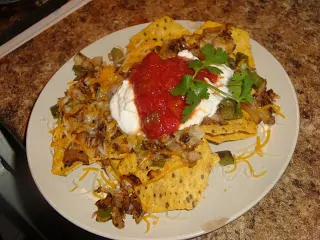 Now remember last week how Jen gave you her outlook on nachos? This is one of the many instances where we do the same dish, two ways. We've decided when that happens, we'll both post so you can see various ways to approach a dish.
For the folks that want their nachos now, now, now!!! I would suggest Jen's recipe. It's quick, easy and tasty.
However, if you don't mind investing just a few more minutes into the process, here's I do mine.
Nik's Nacho Extravaganza
(Jen says I have a flair for melodrama…I can't imagine where she gets that…)
Ingredients:
10 Trader Joes Soy Flax Seed tortilla chips
2 ounces Hillshire Farm Deli Select lunch meat (I used turkey cuz me and beef got beef) sliced into strips
1 ounce shredded Mexican blend cheese
1 tbsp diced onions
1 tbsp diced green peppers
2 tbsp unflavored Greek yogurt
2 tbsp whatever salsa you like (I use homemade)
Directions: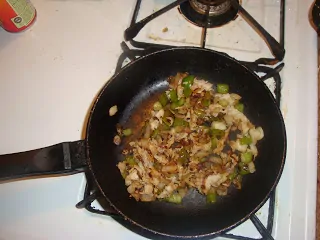 In a sprayed pan, brown up the deli meat, onions and peppers until the meat is slightly crispy. I used turkey here, but beef is fine as well.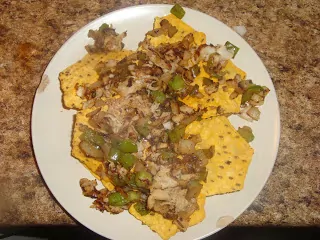 Lay out the chips on a plate, transfer hot meat/veggie mixture to the top of nachos and immediately sprinkle with cheese.
Top with Greek yogurt and salsa. CRUNCH!
To be quite honest, this would be a dinner, even for the "Wonder Pouch." It's got a lot of protein (25g the way I make it) and a good deal of fiber (about 11g in the above recipe). If you are early out, first of all check to make sure you are even allowed to have nachos—healthy or otherwise—and then you might want to halve this recipe.
So there you have it: one dish, two ways. But you don't have to do things the way we do them. Play with your food! And if you come up with something good, hit us up!