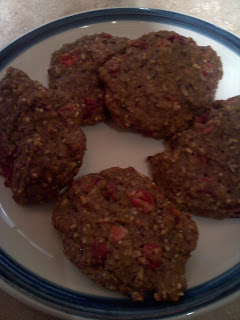 It really warms my heart when one of my Foodies plays with their food and sends me recipes and pics. I ask for it all the time! And sometimes my wishes come true!
Today's offering is via my good friend, Melissa. I had the pleasure of meeting Melissa when I came to Pittsburgh for the Bariatric Foodie Holiday Food Tasting (also known as the weekend the Ravens kicked the Steelers butts in their own back yard…just sayin').
Melissa is a busy mom of two boys and she's been a reader for quite some time. After seeing my posts and others about healthier approaches to cookies this holiday season, she decided to come up with a recipe for a protein cookie. The above was the delicious result!
If you have any questions about Melissa's recipe, leave them in the comments and I'll be sure to ask her to address them. And if YOU have been playing with your food, share with your fellow Foodies! Send any recipes and pics you'd like to submit to bariatricfoodie@yahoo.com. I am always looking to feature YOU!
Enjoy!
Melissa's Oatmeal, Walnut and Cranberry Protein Cookies
Ingredients:
3/4 cup SPLENDA® Granular
1 cup rolled oats
1 cup vanilla why protein powder
1/2 cup soy flour
1 3/4 tsp baking soda
1/2 tsp baking powder
1/2 tsp salt
2 tsp ground cinnamon
1 tsp ground nutmeg
1 tsp ground ginger
1 tsp vanilla extract
1 can pumpkin puree
3 tbsp 0% plain greek yogurt
2 eggs
3 tbsp flax seeds (ground)
1 cup chopped fresh cranberries
1/2 cup chopped walnuts (optional)
Directions:
1. Preheat oven to 350 degrees F (175 degrees C).
2. In a large bowl, whisk together Splenda®, oats, protein powder, soy flour, baking soda, baking powder, salt, cinnamon, ginger and nutmeg.
3. Stir in pumpkin, yogurt, and eggs and mix well.
4. Stir in flax seeds, cranberries, walnuts, if desired.
5. Roll into 48 large balls, and flatten on a baking sheet (Or use mini muffin tin and make mini muffin. Melissa tried both and reports both turned out well!)
6. Bake for 9-12 minutes in preheated oven. DO NOT OVERBAKE: the cookies will come out really dry if over-baked.