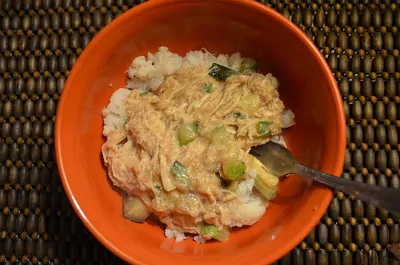 When I was little and it snowed outside, my mom would always make us "Chicken & Rice." Even in the years before she died every so often she'd call me up and say, "Nikki, I made some chicken & rice. Come over and have some."
Here's my food memory of the dish.
Looking back, it usually followed my mom cooking a whole chicken. After we had it for dinner she'd let it sit in the fridge for a few days so we could make chicken sandwiches and chicken salad. Then she'd retrieve the carcass and make chicken & rice. Somehow in my memories this always coincided with snow or freezing temperatures.
Chicken & Rice was an interesting concoction. It put to use whatever spare veggies my mom had and she always boiled the chicken until it was beyond tender, almost like little threads of delicious meat. And there was always pepper. Lots and lots of black pepper, just as all my mother's dishes had because she loved pepper so much.
Anyway, we recently got some winter weather in Baltimore and, being the holidays, I miss my mom something awful. So in her honor I set out to make a healthier version of this dish, both because I am passionate about healthy comfort food and because it makes me feel just a little bit closer to her.
The version I made was indeed comforting and I think it'd be a good meal for those on soft foods or just starting out with meat. So from Mama Foodie to me to you. Enjoy.
Mama Foodie's (Remixed) Chicken & Rice
(# of servings varies. For my 5 year-old pouch this makes about 6 servings)
Ingredients:
4 cups of an assortment of chopped veggies of your choosing (In mine is a large onion, chopped, half a HUGE zuchhini, diced and about half of an eggplant diced. For newer pouches you might want to stick to squash as it gets very soft.)
Either the remnants of one chicken carcass (meaning there's still good meat on there but nobody feels like picking it off) or 2 large chicken breasts (HINT: try my post-op meat marinating technique to make sure your meat gets super tender!)
1/2 of: salt, black pepper, garlic powder, onion powder + 1 bay leaf
3 c. water
1 can lowfat cream of mushroom soup
A batch of cauliflower rice (newbies, do not eat unless you are cleared for cruciferous veggies)
Directions:
Spray a large pot down with nonstick cooking spray and sautee veggies until tender.
Add chicken carcass or chicken, along with water and spices and turn the burner to low (if you have an electric oven, like a 2 or 3 setting) and allow it to cook one hour.
If using chicken carcass, remove the bones (the meat should have fallen off on its own) and discard. If using chicken breasts, pull meat apart with two forks. Taste and adjust seasonings as you see fit but remove the bay leaf.
Add soup and stir then simmer over low heat for an additional 15-20 minutes.
Serve over cauliflower rice.
You can also just throw the sauteed veggies, chicken, water, spices and soup in your crockpot and cook on low for 4-6 hours. Works basically the same, I just didn't feel like hauling out my crockpot!
This is warm and comforting and tastes just like mom used to make but just a little bit healthier.