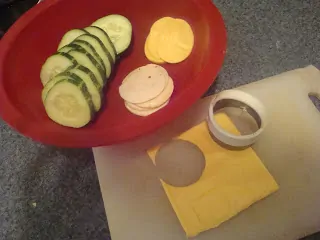 Just a quick one today for you, Foodies!
I used to love me a Lunchable. But as I always say, I'm living better these days!
So I started putting these together instead. Isn't it cute? Best thing about it is you can make it up the way YOU want it.
All you need is:
A few thick-cut slices of your favorite lunch meat (I used Chipotle chicken breast and Jerk Turkey breast…cuz I like it spicy!)
A large, thick slice of your favorite cheese (I used Kraft 2% American singles)
Some cucumber slices (if you are allowed and skin if you need to)
A 1-inch round biscuit cutter
To make them you just:
Slice your cucumbers to your desired thickness
Lay out your meat and "punch out" meat rounds (I like to see how many I can get out of one slice by changing the positions around each time I do it…but I'm weird like that)
Lay out your cheese and do the same
I kept it simple here but I've done dipping sauces to go with it (Greek yogurt ranch dip or a low-fat salad dressing).
This gives me the crunch, the deli goodness and the fun of a Lunchable with more protein, less fat, less carbs and the meat I like to eat (and can positively identify!). And it takes maybe five minutes to prepare.