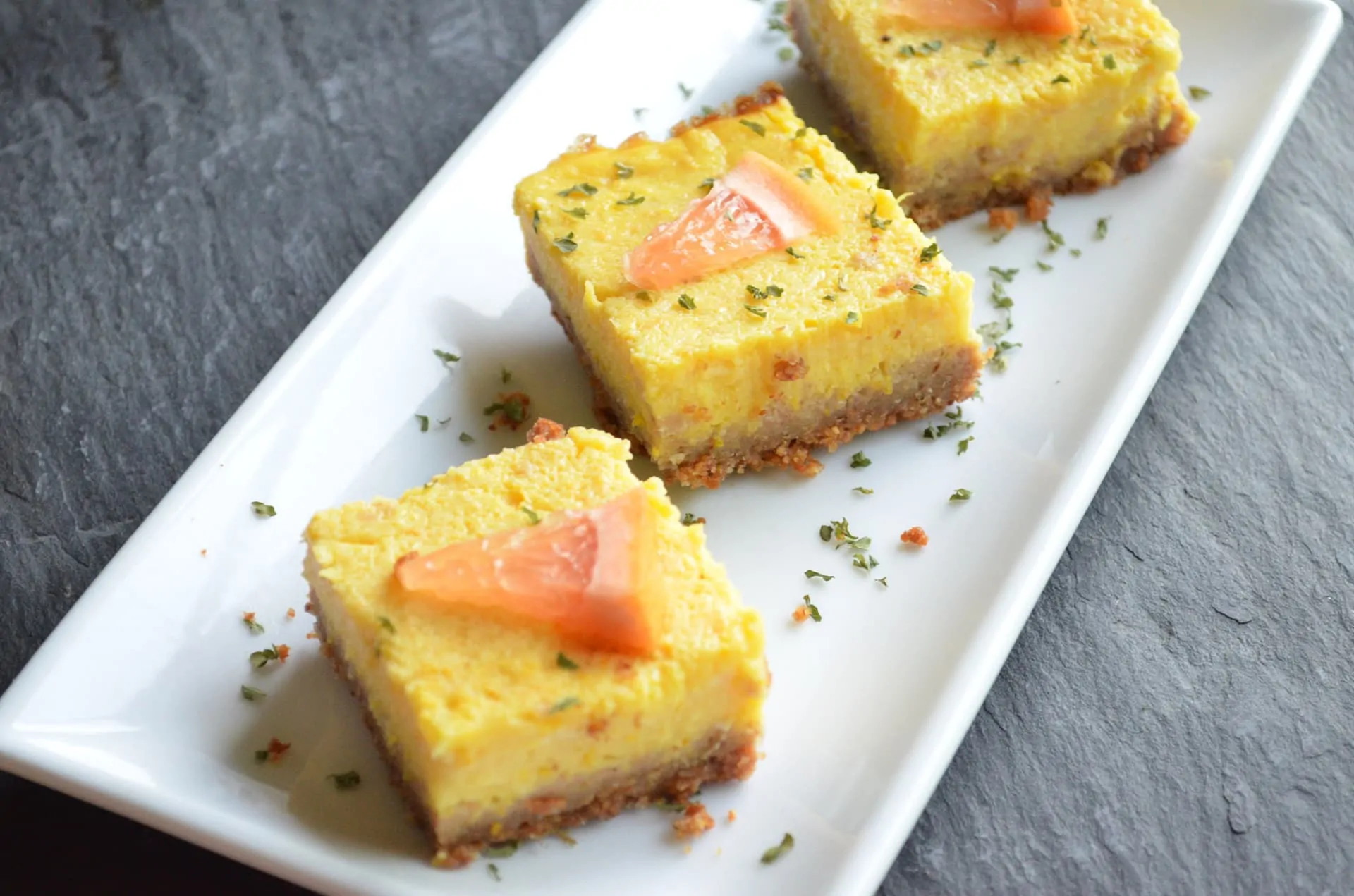 As I munched blissfully on one of said orange bars this morning, I couldn't help but wonder to myself, "Nik…why do you insist on baking things during the summer?"
I mean, sure, we had a cool snap for a few weeks. Then the great flood. (I am starting to forgive Noah for not picking me up…) But now it's summer. Complete and verifiable summer.
And I turned on my oven.
But to my defense, my air conditioner has kinda been on crack lately. It's got two moods:
Cold air? You gets NOTADAMNTHING from me!
"Do you wanna build a snowmannnnnn…"
So the oven actually evened things out. Still. I know when I share baked recipes in the summer, you all are probably looking at your computers (or, if Google Analytics is to be believed, your mobile devices) going, "Oven? She CRAY!"
I promise you, these orange bars are worth the effort. No…really. They are.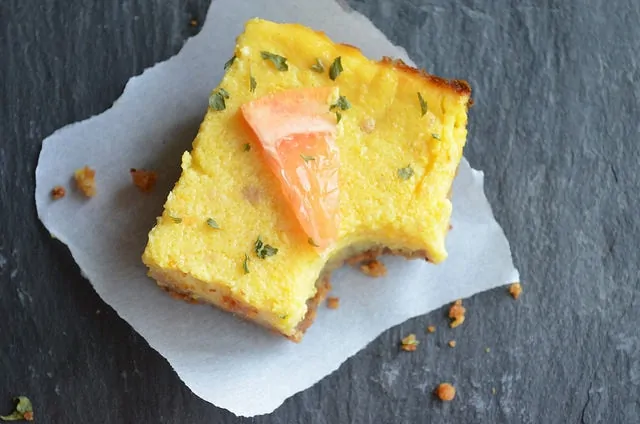 So you might recall last summer I made lemon bars. Well, wait, that's not the whole story. I tried making lemon bars, failed at making lemon bars, then tried again and then made lemon bars. Yeah. That's the truth. Anyhoo…just for reference, here they are.
Well I liked those but they are what my grandma would call (warning: cover the kids eyes) "make your nips pop out" tart! Like seriously. They are wonderful and summery and just sweet enough but at the end of the day? A lemon is still a lemon is still a lemon.
So I got to thinking about different fruits that can make bars. I remember one time, a long time ago, Pioneer Woman made orange bars. Now to me that sounded like it could go one of two ways. Either it could be some sort of wonderful orangey, fruity party in my mouth OR some flat, creamsicle flavor that I don't like. I wanted some of the tang of citrus fruit. I just didn't need ALL of the tang. You feel me?
Anyhoo…the opportunity presented itself to try out my idea during one of the monthly cook-a-longs inside the Bariatric Foodie Nation Facebook Group. Each month, I throw out some inspiration, and we all play with our food and post the results. It's very fun! Well for that month, I put up the lemon bars as inspo…and decided to try these orange bars out.
Working off the incomparable Pioneer Woman's recipe, I came up with these babies. And they are GOOOOOOD. Even my boyfriend and LPD (La Petite Diva, my youngest daughter) think so. As usual LGD (La Grande Diva, the elder) doesn't like 99.99% of foods and refused to try them. Sigh. #TheStruggleIsReal.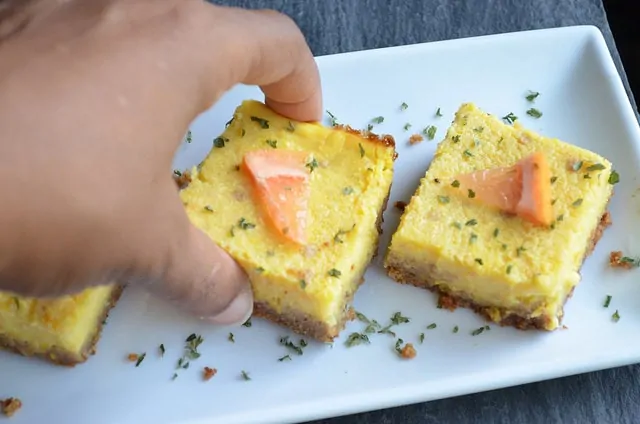 I tested this recipe four different ways:
As always, I first tested exactly according to the source recipe, but with Splenda instead of sugar. (Use what you like, I don't want a sweetener debate, mkay?)
I tried to infuse protein into the custard.
I tried to infuse protein into the crust.
I went back to the original recipe and tried to cut down the fat and carbs and accepted this as a treat to be used in moderation.
Obviously, #4 is what I'm sharing with you today. But you are more than welcome to try to put protein in these! I didn't like the protein in the custard because it modified the flavor and the texture in ways I didn't like. While a baked custard is supposed to firm up a little, mine firmed up just a tad more than I wanted. And try though I did, I couldn't get the brightness of the orange back into the flavor after I added protein (and I tried unflavored, vanilla and orange) – even after adding lemon!
When I tried putting protein in the crust a weird thing happened. I baked my custard and somehow it came out with egg on the bottom. Like legit scrambled egg. (Ewwwww!) That's probably an error on my part but it spooked me just enough to abandon ship.
But one thing I love about our community is that you guys really do use my recipes as a jumping off point to do what you like with them. So I have complete confidence someone will send back a perfectly dreamy, protein-infused version of this recipe. I shall wait patiently for you!
In the meantime, I managed to cut some of the fat, get some healthier carbs in there, and it's sugar-free. Oh and "slap yo' momma" delicious. There's that too.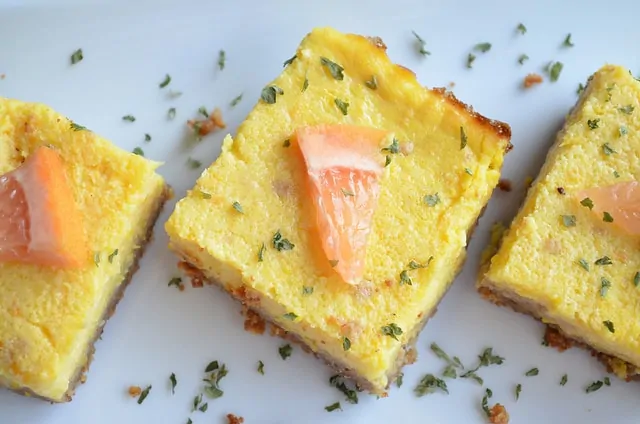 Wondering why there isn't any nutrition information? There's a reason for that. Here it is!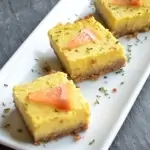 Do you find lemon bars just a little too tart? Then this recipe is for you! Summery, fresh, and slightly tangy - this sweet treat is a WINNER!
Servings

Prep Time

9-12

squares

20

minutes
Servings

Prep Time

9-12

squares

20

minutes
Do you find lemon bars just a little too tart? Then this recipe is for you! Summery, fresh, and slightly tangy - this sweet treat is a WINNER!

Servings

Prep Time

9-12

squares

20

minutes

Servings

Prep Time

9-12

squares

20

minutes
Pre-heat oven to 350 degrees.

In a food processor, combine cereal crumbs, softened cream cheese, sweetener and cinnamon and pulse until mixture resembles wet sand.

Line an 8x8 baking pan with parchment paper. Press crumbs into the baking dish and bake for 10-15 minutes.
In a bowl, combine the sweetener with the cornstarch and mix well with a fork. Add eggs and beat the mixture until it is completely combined.

Add orange and lemon juices + orange zest and whisk until combined. Mixture will be thin.

Pour the mixture over the crust (tip: you don't even have to take the crust out of the oven, just pull out the rack and pour the mixture right on top) and bake for 25-30 minutes or until completely set.

Cool thoroughly on a cooling rack (about an hour) before refrigerating for three hours. When ready to serve, lift the entire sheet out by the parchment paper and cut into squares of desired size.