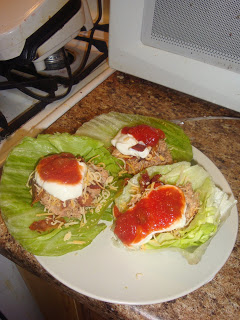 I call these little babies "Fiesta tuna boats" cuz…well they are Mexican inspired (which always makes me want to throw a fiesta), they have tuna in them and the lettuce is like little boats sailing all that yummy flavor into my mouth! Ok, that was cheesy…but then again so are these! So here's the rundown:
Fiesta tuna boats
3 Iceberg lettuce leaves
1 can tuna in water, drained
1 tsp light mayo
1/2 tsp taco seasoning
about 2 tbsp Mexican blend shredded cheese
2 tbsp fat free sour cream (I use Daisy!)
2 tbsp salsa (I use generic hot flavored)
2 tbsp (or 1 oz.) chopped onion
1-2 strips (depending on your fat thresshold/willingness) pre-cooked bacon
salt and pepper to taste
Combine drained tuna, mayo, taco seasoning, salt, and pepper in a bowl and mix
Lay out your lettuce leaves and place equal portions of tuna on each leaf
Microwave pre-cooked bacon one minute until crumbly then sprinkle it on top of the tuna
Sprinkle shredded cheese on top of the bacon
Top each with sour cream and salsa
NOSH, NOSH, NOSH!!!
Depending on your distance from surgery this could be 1 serving or it could be 3. For me it was 1 serving because I have Hercules pouch. This is SOOOOOO yummy! All the flavor of a taco (sorta), the protein of tuna, cheese, bacon, and hardly any carbs!!! What's not to love?
I'm labeling this Mexican food ONLY because of the seasoning and salsa. Very loose interpretation, yes?