–posted by Jen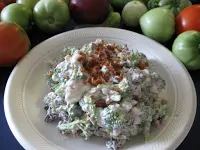 So, I grew up in Southwest Georgia and cold salads are a big thing where I come from, especially in the heat of summer. Most kids don't like broccoli, heck some adults don't! But there is a scrumptious broccoli salad my Momma used to make that was a staple at our summer picnics and cookouts. Even the pickiest kids will scarf it down. (I tested it on some local picky eaters!) I took Momma's original recipe and tweaked it to make it more WLS friendly.
Since Summer is coming to an end, and Labor Day is this weekend, here's a perfect side dish to make for your Labor Day cookout! It does have raisins, so if raisins or fruit sugars make you dump, I would suggest omitting the raisins and maybe use a smidge more Splenda (or your sweetener of choice). I also sometimes grate in some carrots for sweetness and crunch if I am out of raisins and too lazy to go to the store.
Same thing with the onions and bacon, if either of them bother you, leave them out or find something else to replace them with. If you like curry, you could toss a bit of curry powder into this and some cubed chicken, ham, or turkey to make a complete meal.
As always, here at BF, Nik and I use our recipes to give y'all a jumping off point, we encourage you to make them your own. Play with your food, people! Tweak the ingredients and change them up for the flavors YOU like or that your family enjoys. When you do, snap a pic and send it to us so we can add you to our Fan Food Porn album on Facebook!
Jen's Broccoli Salad
Ingredients:
2 heads fresh broccoli, rinsed and trimmed into small florets
1 small red onion, chopped fine
1 cup raisins (sometimes I use more, depending on how much broccoli there is)
1 jar real bacon bits (I used Hormel, but you can certainly cook and crumble bacon if you're feeling froggy)
1 recipe Jen's Coleslaw Dressing (side note: if you happen to make some coleslaw earlier in the week, make a double batch of the dressing and refrigerate half to use for this later the same week. It gives the flavors time to marry and then you can eat this salad with dinner instead of letting it sit overnight in the fridge. You can also mix up the coleslaw dressing when you have a spare moment and keep it in an airtight container in the fridge for up to two weeks.)


Directions:
Mix up the coleslaw dressing or use the container you have set aside in the fridge. (You CAN use store bought coleslaw dressing, but it is usually loaded with sugar and I sneak some protein into mine by using Greek yogurt.) Combine the broccoli, raisins, onions, and bacon bits in a large mixing bowl until well mixed. (Salad tongs
are great for this, toss it like a regular salad.)


Pour on the coleslaw dressing and fold everything together until the whole salad is well coated with the dressing. If the coleslaw dressing is freshly made, this tastes better if you let it sit overnight in the fridge so all the flavors combine. If you had extra dressing already made up, this tastes fine served right away.