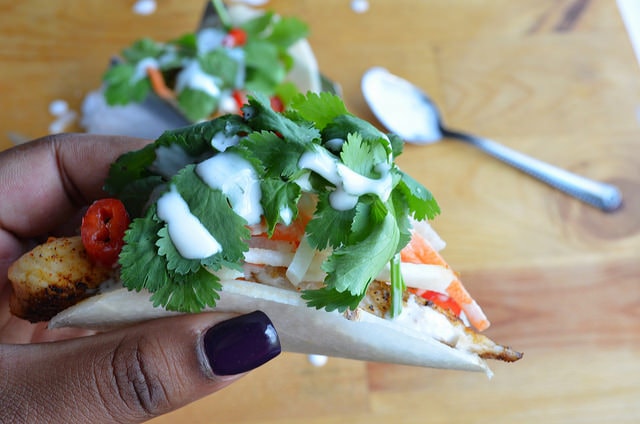 So before we dive headfirst into jicamo fish taco goodness, let's get a few things out of the way.
What the heck is jicama??? (Watch this then come back. We'll wait for you!)
You can eat that whole taco??? (Yes, I can eat that whole taco. I can actually eat both tacos, but your mileage may vary!)
Where do I get jicama? (I get it from my local international supermarket but have even found it at Super Wal-Mart so just keep on the lookout!)
Ok…having said that, let's move on.
It's very rare that restaurant food truly surprises me. It often delights me (especially because I didn't have to cook it) but it's been a long time since I was served a food at a restaurant and said, "Oh. Hey. Look at that!"
But that happened for me. At P.F. Chang's. Of course the experience was clothed in comedy.
Picture it. Nik. Out with the divas for lunch. We decide to go to P.F. Chang's because…I mean…where else in the vicinity of a mall is a true diva supposed to eat?
We sit down, and I'm all prepared to order what you might call my "usual" (Dali chicken, no rice), when something draws my eye to a particular part of the menu. It says "Jicama Street Tacos." And there are several varieties. I don't remember them all off-hand but there was a Kung-Pao Chicken one and a salmon one for sure. So then a conversation ensued in my head.
"Ok so…jicama. Does that mean the taco is actually jicama…or there's jicam in the taco?"
"Well if there was jicama in the taco, that wouldn't be too special so it has to mean the taco shell is jicama, right?"
"But does that mean that the taco shell itself is jicama or that there's simply jicama mixed into the taco shell?"
"Really, Nikki? Jicama mixed into the taco shell? Who does that?"
"I dunno but stranger things have happened so the best thing to do is ask, I guess."
(PAUSE: Yes. This was a whole conversation that went on in my head. This happens quite frequently. My therapist says it is healthy.)
So then I decide to take this conversation out of my head and into the realm of reality. And believe it or not, that's where things got really whacky. So I ask our server (I think she was called Ashlyn…or some other really pretty name with a Lyn on the end):
Me: "So the jicama street tacos…"
Ashlyn: And before I can even ask my question she blurts out, "Jicama is a root vegetable." And smiles. I smile back.
Me: "Yes I know that, but I'm wondering, it's used as the taco, right?"
Ashlyn: "Yes." Smiles again. I tell you chick had a million dollar smile and I admit I wondered why she wasn't in show business. She had one of those Rockette smiles.
Me: "And do you know if the whole taco shell is jicama or if it's mixed with anything else?"
Ashlyn: "Um…not sure." Just then another server happened by.
Ashlyn: "Hey (NameICan'tRemeber) do you know if the jicama tacos just have jicama or are they mixed with something else?"
NoName: "Jicama is a root vegetable." (Note to P.F. Chang's: In whatever training you gave your servers you did, in fact, drive that point home!)
Me: "Yes I know that but is it just jicama or is it mixed with something else to make the shell?"
NoName: "Oh. No, it's just jicama."
That was the most work I've ever had to do ordering food in a restaurant in my life. But well worth it because I decided to order. I did the Kung-Pao Chicken.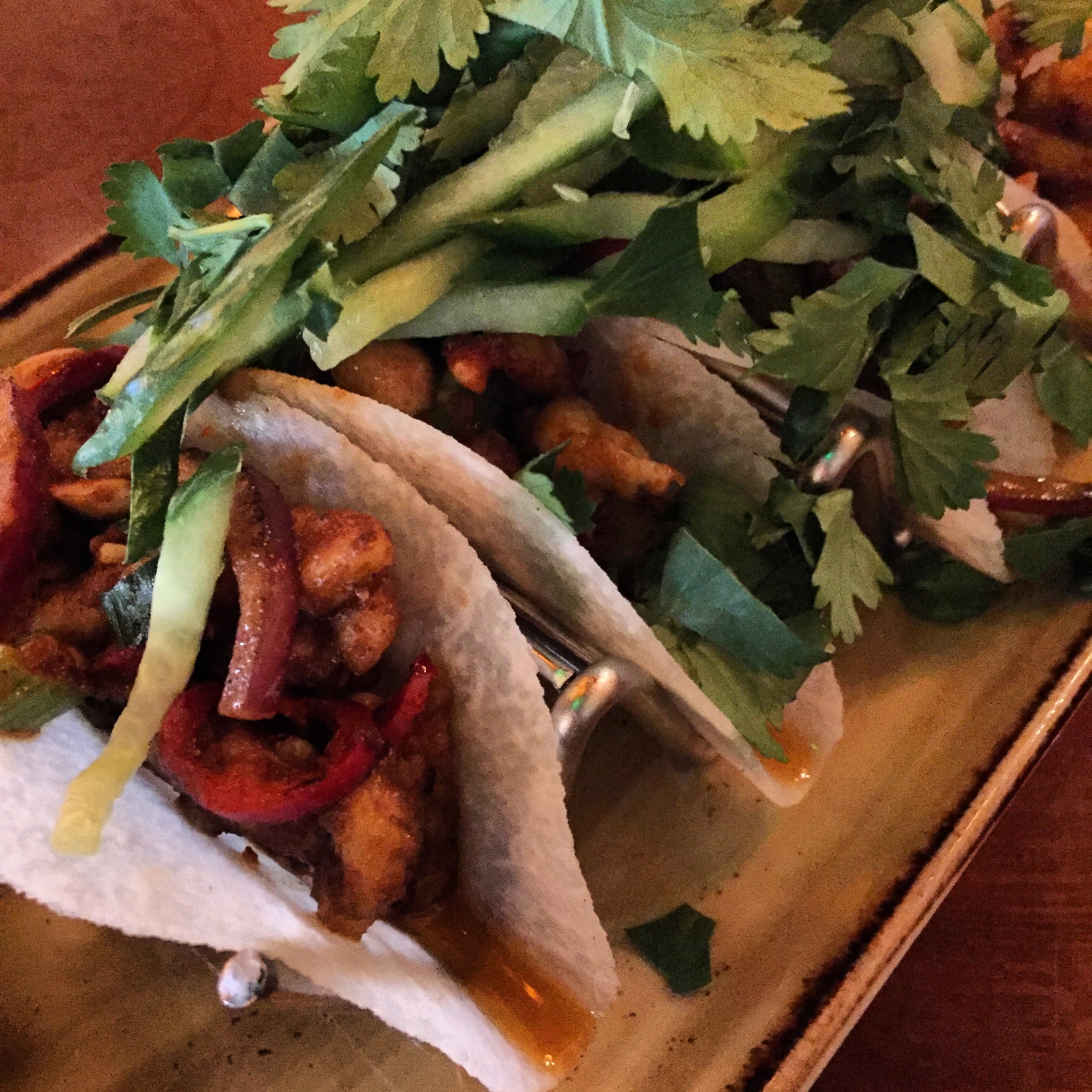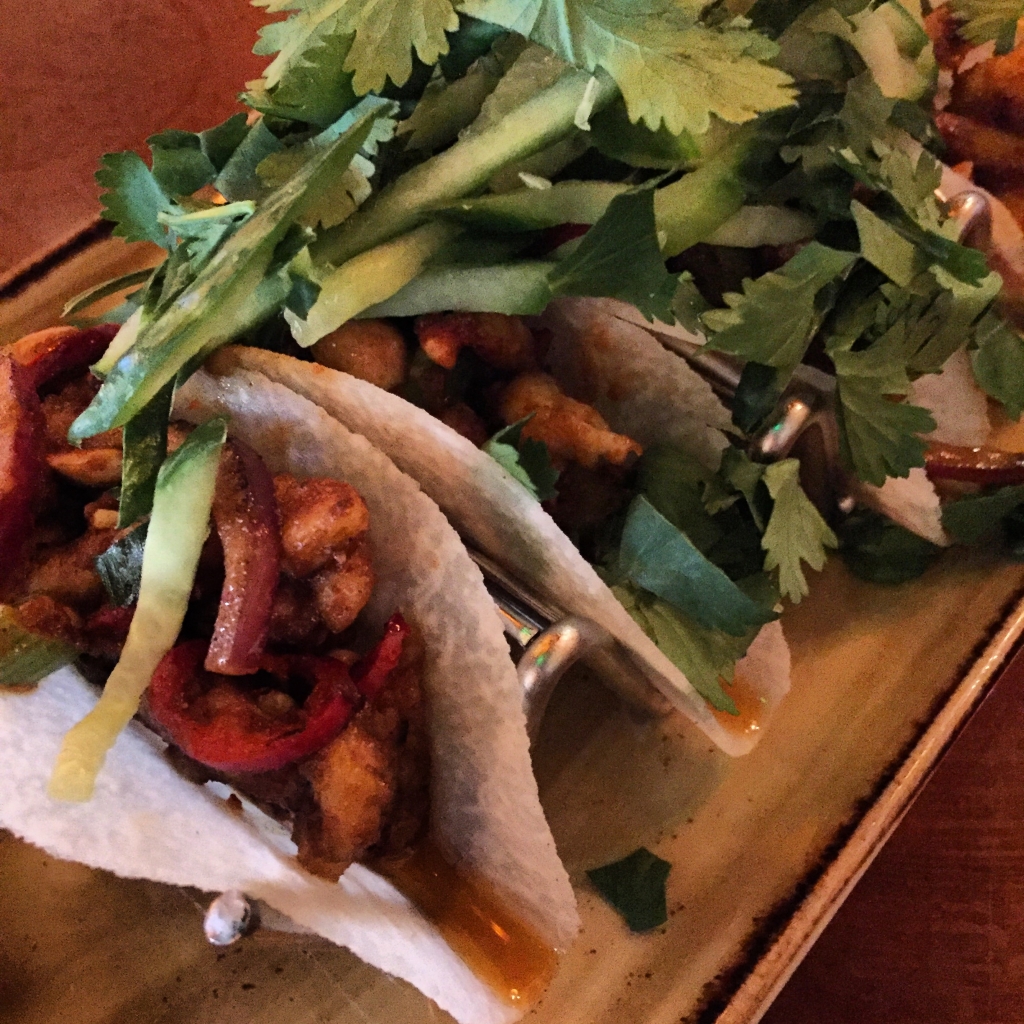 So the food comes and it looks…Ahhhhhhmazing! Like so amazing I almost feel inclined to say amazeballs but then I remember I am not the kind of person who says amazeballs. So I just grinned happily and reached in for my taco. And it was…
Fresh. Clean. Flavorful. Everything I expected it to be!
And I knew I had to try this at home!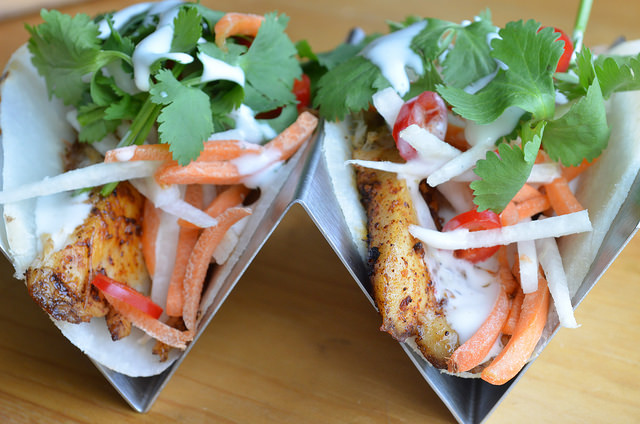 So…you may be wondering why we have a fish taco instead of a Kung-Pao Chicken taco. I have an explanation.
Kung-Pao Chicken has too many dang ingredients!
Now usually that would not deter me. If you look at some of my recipes they have like 257 ingredients. I love ingredients. The more ingredients the more I love a recipe. EXCEPT when I am in the kitchen of a new house which is not yet fully equipped. Then ingredients are thine enemy.
Fish tacos, however, don't have too many ingredients. And there's the fact that I almost always have every single needed ingredient for fish tacos in my house. (Fish tacos – 2, Kung-Pao Chicken – 0) Fish tacos, for the win!
But if you'd like to make Kung Pao Chicken tacos (or any other type of taco, for that matter), knock yourself out. Play. With. Your. Food.
Anyhoo let's talk about how you prep this jicama so that it becomes a taco. You have several options:
You can cut it by hand.
You can use a mandolin slicer.
If you live in a glorious state where they are sold, you can buy pre-sliced "jicama taco shells." (I do not live in one of these mythical places but I hear they exist.)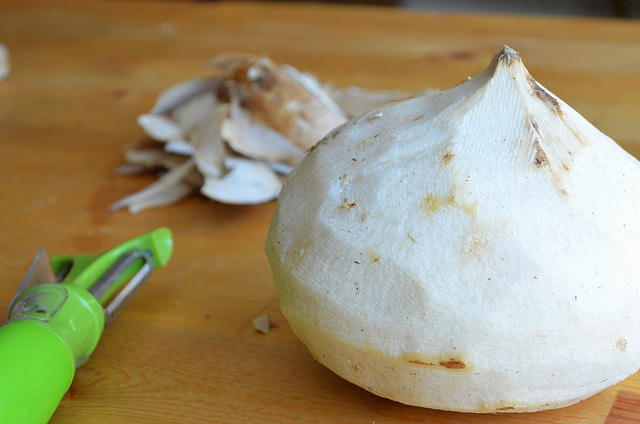 So my first attempt at this I tried hand-slicing the jicama.
Bad idea. VERY bad idea. I started with a HUGE jicama and ended with 3-4 taco worthy slices and a bunch of this.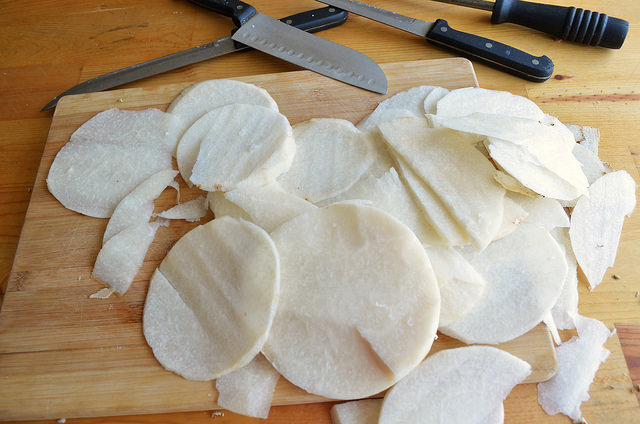 I have a whole new respect for those people who hand-shave ham. And that guy at Fogo de Chao whose job it is to carve the meat. Yeah. Him too. Moral of the story: use a mandolin!
Once I had slices I found them to be distinctly un-malleable (they snapped in half). I suspected this might be the case (although I initially thought it wouldn't be the case with a mandolin sliced jicama, but that turned out to not be true).  So I did what any reasonable person would do. I hauled out a frying pan, put a shallow bit of water in there, and I boiled those jicama slices until they bent to my will, BWAHAHAHA! (Dramatic, much?)
But for real, it worked! They bent just fine after boiling them for about 2-3 minutes each.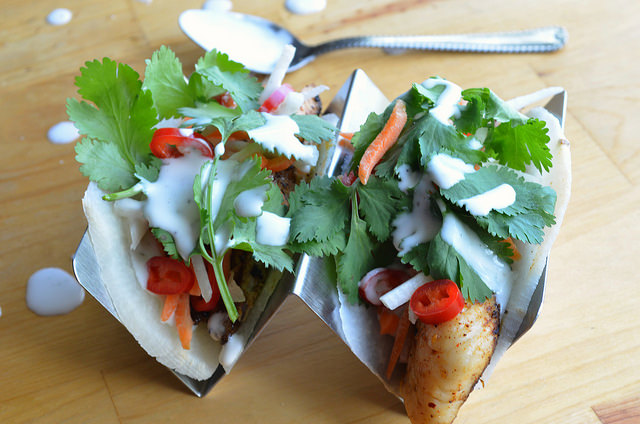 From there, things went pretty fast. My prep of fish tacos is as follows: thaw fish (I used tilapia), dredge in some sort of seasoning (in this case McCormick Salt-Free Southwest Seasoning), spray with nonstick (yes, the fish, that's a trick I learned to keep seasoning on without using flour) and then pan fry it in a skillet that's been sprayed down with non-stick. BAM! Easy peasy.
For the topping I kept it pretty simple. I used jicama scraps (which I hand julienned) and some matchstick carrots to get a little slaw action going, and I topped it with cilantro and a drizzle of Greek yogurt ranch dressing (1/4 c. unflavored Greek yogurt + 1 heaping teaspoon ranch dress mix = Greek yogurt ranch dressing…or I believe they sell it that way in the store as well).
What I like best about this recipe is the fact that you can make just two little tacos. Granted, you'll have jicama left over no matter what, but now you have at least one use for it, right? Here are a few others:
Julienne it (or put it through a mandolin with a julienne attachment) and mix with mathstick carrots and purple cabbage, mix with Bariatric Foodie's protein coleslaw dressing, and make a kick-a$$ crunchy slaw!
Dice it and put it into chicken or tuna salad for a nice, crisp crunch (that you'd usually get from a cracker)
Or do what I normall do, which is cut it into sticks and dip it in whatever yummy dressing I have available. It's a great snack that's packed with water and fiber!
So have I convinced you to try jicama yet? I hope so. Play with your food!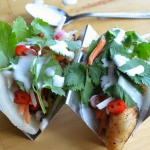 Protein-packed, flavorful white fish (tilapia) inside a "taco" shell made of jicama. This recipe gives you the fresh, clean taste of a fish taco, with a fraction of the carbs!
Servings

Prep Time

2

tacos

15

minutes
Servings

Prep Time

2

tacos

15

minutes
Protein-packed, flavorful white fish (tilapia) inside a "taco" shell made of jicama. This recipe gives you the fresh, clean taste of a fish taco, with a fraction of the carbs!

Servings

Prep Time

2

tacos

15

minutes

Servings

Prep Time

2

tacos

15

minutes
Add water to a skillet and set it over medium heat. Bring it to a boil.

Drop your jicama "taco shells" into the water and allow them to boil about two minutes. They should be malleable but not completely softened. Discard water.

On a paper towel, season thawed tilapia filet with salt and Cajun seasoning on both sides. Spray with nonstick cooking spray.

Spray skillet with nonstick cooking spray and again set it over medium heat and allow it to get hot. Add fish and cook for about 3 minutes on each side, or until done through.

Assemble tacos by first placing half the fish inside each shell. Top with slaw mix, peppers (if using), cilantro and ranch dressing.