~~posted by Jen
For many years, I made chili the standard way, with beef ground for chili. (That's a little thicker grind than regular hamburger meat.) It never occurred to me to use any other cut of beef until I spent a few weeks with my older sister Angie and her family shortly after our Momma passed away in 2002.
Angie is 7 years older than me and now lives in Illinois, near her husband's family. It's widely accepted in our family that I am the cook and she is the baker. I hate to bake almost as much as she hates to cook, but once in awhile we switch roles.
One night we decided to have chili for dinner, and she offered to cook. As it turned out, she makes her chili with sirloin steak cut into pieces. I really liked the way hers came out, but I wanted to tweak the recipe and make it my way. (Imagine that, right?!)
I use beef stew meat because I think it has a bit richer flavor, not to mention it's more cost-effective than sirloin. I also added several types of beans and some additional spices, just to make it more interesting. So from all that, this recipe was born.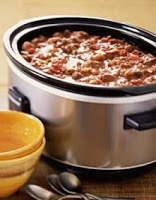 A Pot Full of Deliciousness!
Over the years it has become a family favorite and is often requested for parties and potlucks. This is one of those dishes that, like spaghetti sauce or meatloaf, tastes even better the longer it's in the fridge.
It freezes very well, and this recipe makes a BIG pot full of chili. Absolutely portion out your leftovers into
freezer containers
for future meals.
Side note: If you looked at the Ingredient List and wondered why in the world you needed a cup of brewed black coffee, I'll tell you! That was my Momma's secret for cooking beef in the crockpot.
Particularly for less expensive cuts, the coffee helps to break down the meat and make it super tender. It also adds an extra depth of flavor to the meat. Try it next time you cook a roast or beef stew in the crock pot, you won't be sorry!
Moving on! Here's how it's done:
Jen's Practically Famous Chili
Ingredients:
3 pounds round or chuck beef steak, cut into 1-inch cubes (or you can use beef for stew, already chopped by the butcher)
1 large yellow onion, coarsely chopped
1 (14 1/2-ounce) can pinto beans, drained and rinsed
1 (14 1/2-ounce) can black beans, drained and rinsed
1 (14 1/2-ounce) can kidney beans, drained and rinsed
1 (14 1/2-ounce) can cannellini beans, drained and rinsed
1 (14 1/2-ounce) can whole kernel corn, drained
1 package chili seasoning mix
1 tablespoon chili powder (add more if you like spicier chili)
1 tablespoon garlic powder
1 tablespoon onion powder
2 teaspoons ground cumin
2 heaping tablespoons Goya Sofrito
2 (14.5-ounce) cans beef broth
2 (28 ounce) cans diced tomatoes, drained
1 cup brewed black coffee
2 tablespoons unsweetened cocoa powder
1/2 cup water
Salt and pepper, to taste
Directions:
I usually cook the meat overnight with the onions and coffee, that way the next morning I can add all the other ingredients and spices and let it simmer all day. I did post
this announcement
yesterday afternoon, so hopefully you cooked the meat overnight and it's ready to add your other ingredients this morning.
If for some reason you missed that memo, have no fear! Just put your meat, onions, 1 cup brewed black coffee, and 1/2 cup water in the CrockPot now and let it cook on low for 6 hours.
Add all of the remaining ingredients to the Crock Pot, and stir until thoroughly combined. Set the Crock Pot on low and let it simmer for at least 4 hours. I usually let mine simmer for 6 to 8 hours. That's it! You're done.
Now dip yourself a bowl and top it with your favorite garnishes. I like a dollop of Greek Yogurt (instead of sour cream), a good handful of shredded cheese, and a few sliced green onions on top of mine. This also makes a great topper for
Nachos
.
Spice it up as much or as little as you like and dig in! This is a perfect meal for the "big game" and guys always love it.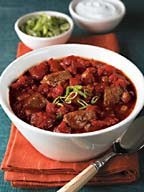 Have it your way with whatever garnishes you like!