~~posted by Jen


Nikki and I had an amazing time with all our friends who made it out to the Holiday Preview yesterday! It was such a fun time and great to put faces to the names we see online all the time. I love making new friends, and yesterday was no exception.
For those of you who had planned to attend but had last minute things come up, we understand. You were missed, but you'll have lots more chances to party with us in the future!
If you're too far away to party with us on the East coast, you can still order your portable version of the holiday preview! They'll start shipping this week, you get the recipes, 1 sample of each shake we made, and a goody bag. Basically everything but Nik and I in a box shipped to your door!
You can also select the "Deluxe Portable Preview" which is everything listed above plus a first edition of our Protein Shake sample book. This makes an excellent gift for the newer post-ops in your life, or even those of us who consider ourselves "oldies." Who couldn't use some delicious new shake ideas?
We promised to share a select few of the recipes from the party on the blog, and we do our best to keep our promises! You've already seen the one for my Roasted Butternut Squash Soup that we served as a starter.
Here's one of the two desserts we made, my Sugar Free Protein Chocolate Trifle.
Shout out to our Poucher Pal Michael Neese who took this great pic with his super high tech phone. Thanks, Michael! You rock!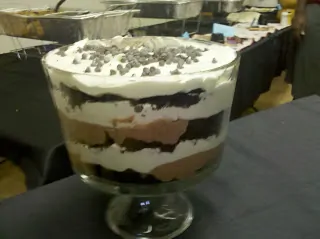 Jen's Chocolate Trifle
Ingredients:
1 (18 1/2-ounce) package Sugar Free Devil's Food cake mix (Pillsbury is the only one I've found)
3 (3 1/2-ounce) packages instant Sugar Free Chocolate pudding mix
1 (16-ounce) carton Greek Yogurt
2 (16-ounce) tubs Sugar Free whipped topping (such as Cool Whip)
½ cup sugar free chocolate chips (optional, for garnish)
1 cup chopped pecans or walnuts, lightly toasted (optional)
Directions:
Prepare the cake mix according to package directions and bake in a 13 by 9-inch pan. Let it cool thoroughly, then cut the cake into cubes about the size of walnuts.
Combine the Greek Yogurt, Chocolate pudding mix, and 1 tub of the whipped topping. Whisk together until thoroughly combined. {Note: If you're making this for an all post-op WLS crowd, you can add chocolate protein powder if you like. I usually add 2 scoops for a bowl this size.)
To assemble: In a trifle bowl, layer one third of the chocolate cake cubes, pudding mixture, whipped topping, and nuts. Repeat, layering the remaining ingredients, ending with whipped cream and nuts. Sprinkle sugar free chocolate chips over the top to garnish. (Or you could also sprinkle a bit of cocoa powder on top.)