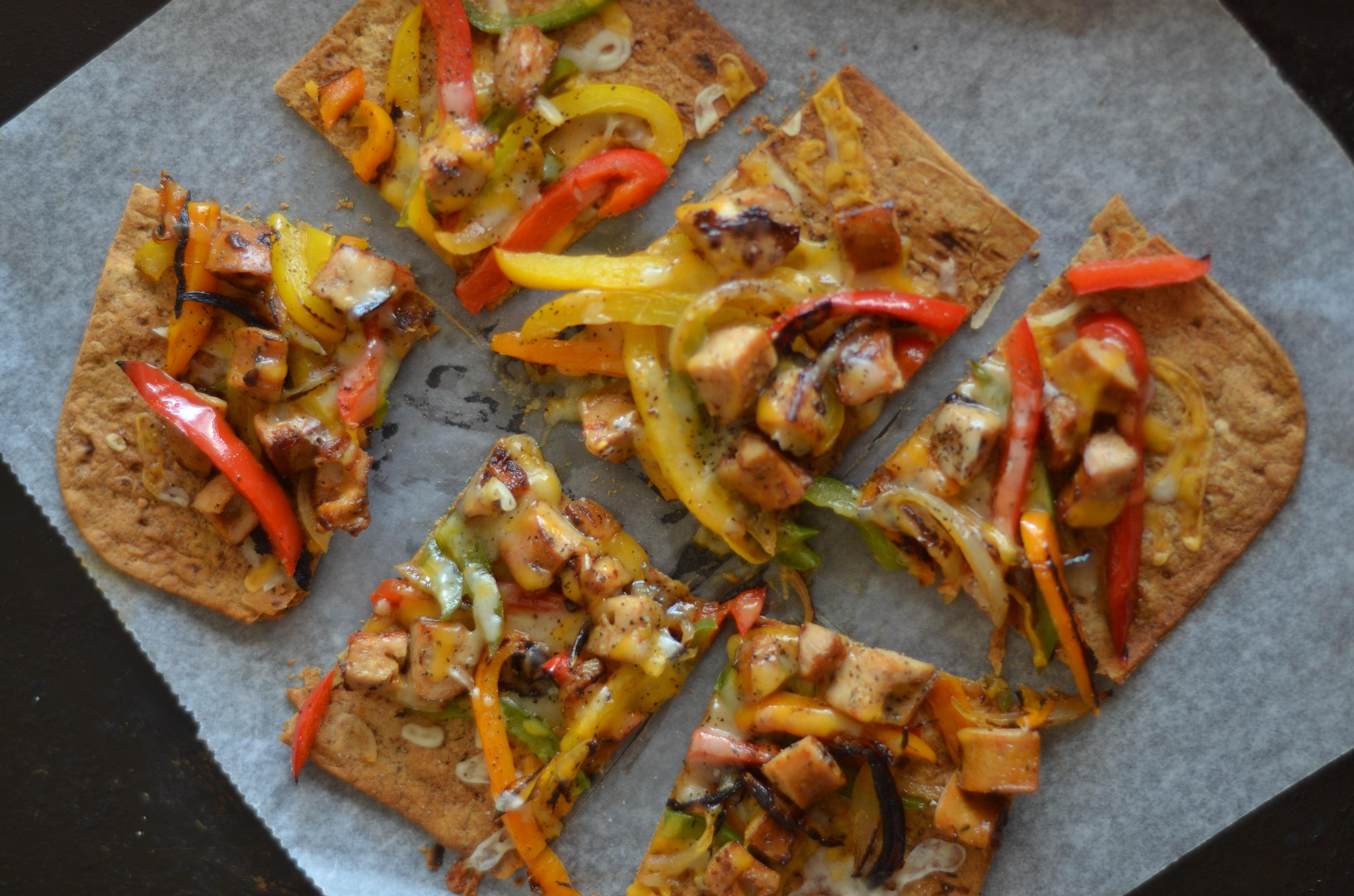 So let me give you a little spoiler about this flatbread post.
If you clicked through thinking I was going to give you a recipe to magically turn cauliflower (or some other veggie) into flatbread…this post is gonna disappoint you. Alas, there is actual starch here!
Now if you are of the "I don't eat starch, ever!" school of thought, I respect that.
And I also invite you to check out one of the many, many, MANY other posts on Bariatric Foodie that don't contain a starch. Cuz this one does. And I ain't sorry!
Now that that bit of business is over. Let's talk flatbread. I was in the mood for it on a recent afternoon.
But like most post-ops, I have starch rules. I'm not a "post-op gone wild," after all.
My starch rules are mostly in place to ensure that I stay at, or close to, a ratio of 40/35/25. That is, 40% of my daily calories coming from protein, 35% from carbs, 25% from fat. That's how I've eaten thus far and it works for me on several levels.
Weight stable? Check. Blood sugar stable? Check. Enough variety so that I don't constantly dive head first into a bag of Flamin' Hot Cheetos? Check!
But I digress. Here are my rules:
The starch I use has to be whole wheat, a good amount of fiber and not too many calories.
There must be a lean protein source on that sucker somewhere.
I cannot load this thing down with fat (and many restaurant flatbreads are loaded with oil…which is yummy…but my system and excessive amounts of fat don't get down like that).
So those are my rules. From those rules, I can make many yummy flatbreads. Like this one.
Now I'm going to give you the exact recipe for this flatbread, but think of this more like a template. You can switch out the protein, the cheese, the veggies. So long as you use this method, it usually turns out ok. So, as always, play with your food!
Let's meet the cast of characters for this flatbread.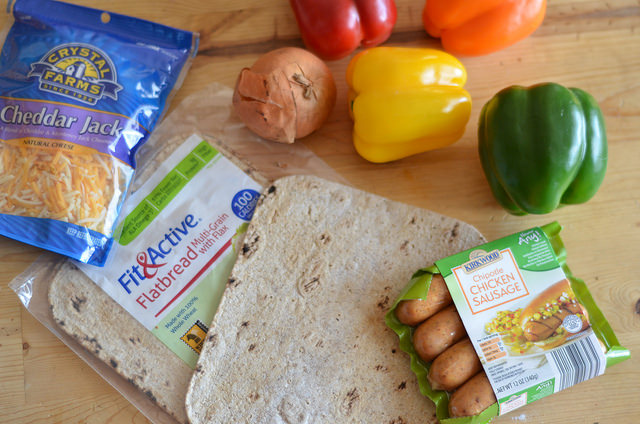 Do you guys shop at Aldi? If not, why not? Cheap, healthy food! Who doesn't love that???
So here we have our flatbread, shredded cheese, an assortment of colorful veggies, and some flavored chicken sausages. Yep…this is gonna be good.
Ok so the first thing you wanna do is crank your oven up to good, old 350. (When in doubt about baking nearly any recipe, or if the temperature was omitted, it's almost always ok to bake stuff at 350, by the way. Almost.) Next, you wanna lay your flatbread out on a cookie sheet (mine is covered with foil because my cookie sheets are old and brown, which means things burn faster on them, so I cover them with foil). Spray your flatbread on both sides with some non-stick cooking spray.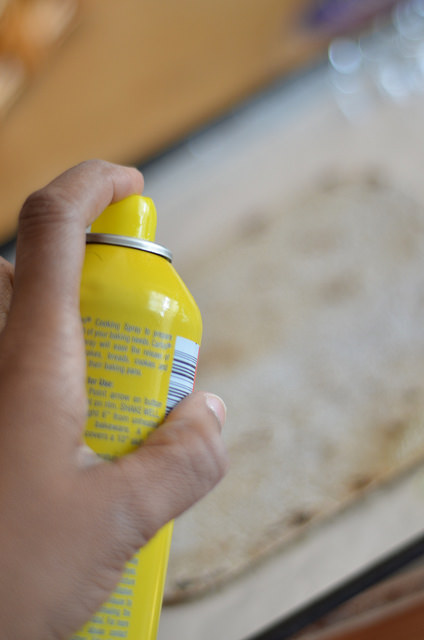 For good measure, I also put a teeny, tiny sprinkle of salt. Not much. Just a lil' sprinkle. Then pop it in the oven for 10 minutes. (Seriously…only 10 minutes. Set your oven timer!)
From there, you'll want to chop up your veggies and saute them until they are soft but not completely limp. Now I'll issue a warning here. If you're only making one flatbread, it's really easy to over-prep your toppings. I literally cut about a half-inch piece off of each pepper I used and cut that into slivers – and even that was a lot, as you can see in the very first picture!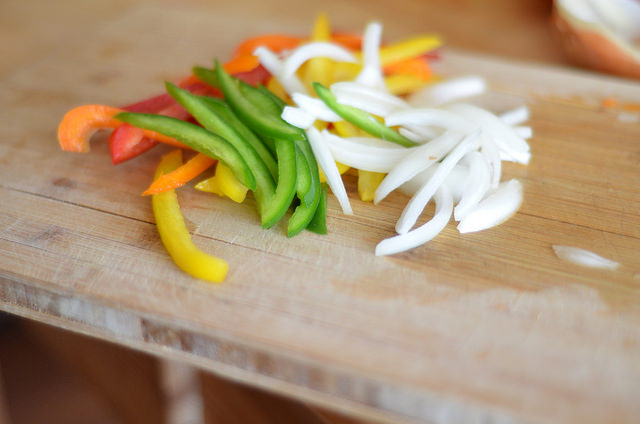 Now, I'll admit that I pre-chop my veggies before I start this whole shindig so that I can have them all nice and cooked by the time the flatbread comes out of the oven. Speaking of which.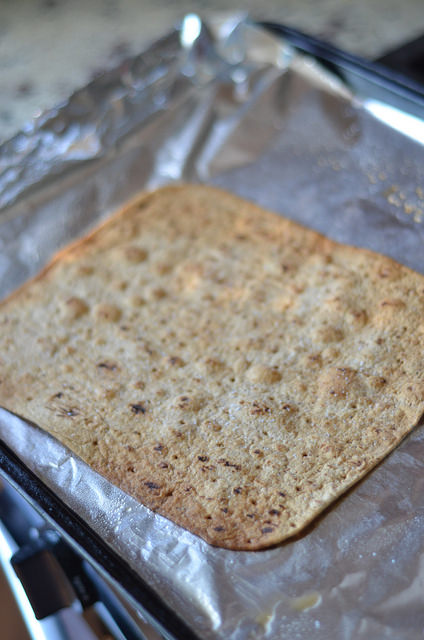 This here is what you're going for. It should be toasted, browned toward the corners, but not burned (this one is a little bit over-done but thankfully it worked out for me).
I usually dice up my chicken sausage (I didn't get a pic of that – sorry!) and toss it in the pan separate from the veggies, just to warm it up and get a little singe around the edges. Now comes the fun part. You get to load your flatbread up!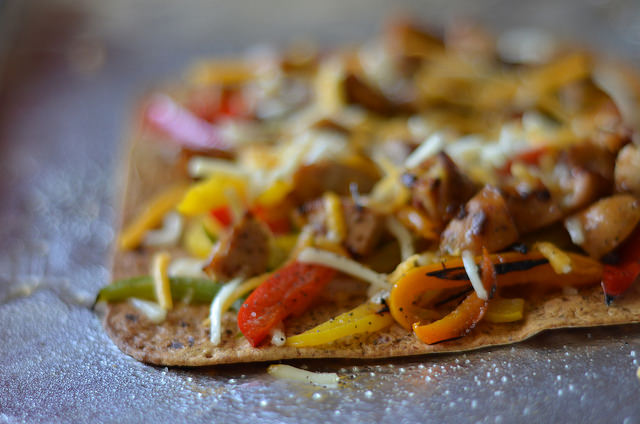 Here's how I usually layer it: I put half of my cheese directly onto the flatbread. I top that with a mixture of veggies/meat, and then top with the other half of my cheese. I like to finish it off with some ground black pepper. Then I spray all that with another round of non-stick (just to make sure it doesn't burn).
Then you wanna pop it back in the oven. I'm so serious about this part: it only needs to go in like 5 minutes. The only thing you are trying to accomplish at this point is to melt the cheese. Everything else is cooked. Do not leave the kitchen. Stay there for five minutes. It's an investment! Because here's what you get if you do it right.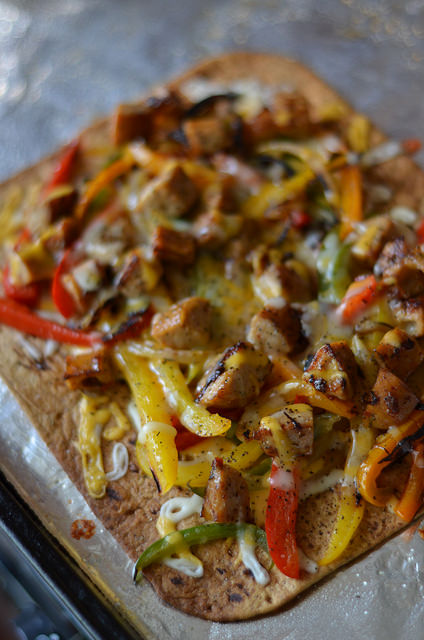 YASSSSSS! This is what we want. Crispy flatbread. Melty cheese. Softened veggies. And yummy protein. NOM!
From here, you would just use a pizza slicer to cut that sucker open!
Now, let's talk about a few things. Because I know some of you have questions.
Can I eat the whole flatbread? Yes, yes I can.
Can you eat the whole flatbread? I dunno. I don't know you or your stomach. Use your best judgment.
Does this keep well if you have to save some of it? Yes, but when you reheat it, it's best to do so in a low-temp oven (200 degrees) or a toaster oven. But it keeps fine.
How many calories/carbs/____ does it have? Good question! As with all Bariatric Foodie recipes, I'm going to leave that to you to work out using the actual ingredients you have on hand. However, I will say that the flatbread is 100 calories, 17g carbs, 8g fiber (so 9 net carbs) and 9g protein. I tell you that so you can look for a comparable flatbread if you don't have an Aldi.
Do I ever get afraid that my flatbread is a gateway food that will inevitably lead me to a life of mass consumption of Oreo cookies? Hey…you…who does not do carbs…I thought I told you at the beginning to skip this post! Seriously though…nope. I eat responsibly and I trust my surgery to help me control my appetite. So far, that works for me. Your mileage may vary. As always, #KnowThyself.
Any other questions? Drop 'em in the comments. I'm here for you!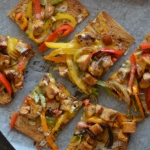 Flatbread is one of those things, I am completely unwilling to give up just because I'm trying to eat healthy. This recipe uses affordable, yummy and healthy ingredients to give me the taste I love for a fraction of the calories!
Servings

Prep Time

1

flatbread

15

minutes
Servings

Prep Time

1

flatbread

15

minutes
Flatbread is one of those things, I am completely unwilling to give up just because I'm trying to eat healthy. This recipe uses affordable, yummy and healthy ingredients to give me the taste I love for a fraction of the calories!

Servings

Prep Time

1

flatbread

15

minutes

Servings

Prep Time

1

flatbread

15

minutes
Preheat your oven to 350 degrees. Lay your flatbread out on a cookie sheet and spray it down on both sides with non-stick cooking spray. If desired, add a tiny sprinkle of salt. Bake for 10 minutes, or until flatbread is crisp and edges are slightly browned. Remove from oven and allow to cool.

Saute your veggies in a pan over medium heat until they are slightly softened, but not completely limp. Set aside.

Spray your pan with nonstick again and sautee your diced chicken sausage until it is warmed through. Set aside.

Top flatbread first with half the cheese. Then cover that with the vegetables and meat. Finally add the remaining cheese. Spray all that with nonstick cooking spray once more.

Bake in 350 oven for 5 minutes, or until cheese is melted. Slice with a pizza slicer and enjoy!