~~posted by Jen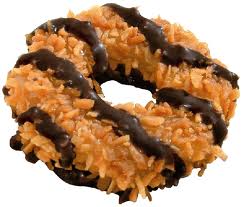 Our Poucher Pal Kris H.was chatting with me on
Facebook
the other night while enjoying
Nik's Thin Mint Hot Protein
drink, and mentioned she'd love to have a "Samoa" version. I told her then that Nik is the Queen of Protein Drinks, as y'all know, and I'd be willing to bet she had one or could come up with one pretty quick.
Sure enough, we were having our weekly phone "staff meeting" tonight and she gave me the recipe for it to share with all of you. I just made myself one, and I can attest to the deliciousness of it! Without further ado, I give you Nik's "Samoa" Protein Hot Chocolate!
Here's how it's done:
Nik's "Samoa" Protein Hot Chocolate
Ingredients:
8 oz milk
1 scoop Chocolate Protein Powder (I used Body Fortress)
1 tbsp unsweetened cocoa powder
2 pumps (tablespoons) Davinci Coconut SF Syrup
2 pumps (tablespoons) Davinci Caramel SF Syrup
No-calorie sweetener to taste (I use Splenda)
Directions:
Pour milk into your blender cup first, then add protein powder, cocoa powder, sweetener, and syrups. Whiz it together in the blender, remove blade, and microwave for 35 seconds. Remove from microwave, stir, and check taste/temperature. Adjust sweetness to your taste, then pour mixture into a microwave safe mug, and microwave mixture for another 35 to 45 seconds or until desired temperature.
Trust me when I tell you, one sip of this baby and you'll be asking for "Samoa!"