~~posted by Jen


Submitted by our pal Christine S, she made Nik's pumpkin roll cake.




'Tis the season! Lots of shopping, busy schedules, running hither and yon trying to get it all done. Sound familiar? Of course at some point in the next few weeks, you're expected to have some guests over to your house for drinks and nibbles, or something of the sort.
Holiday entertaining does NOT have to be stressful. So quit freaking out, take a deep breath, and let's make a plan here! I (humbly) consider myself pretty good at throwing together a slamming party in a hurry, for very little cash and effort. I've had years of practice!
I love love love having people over, even if I don't have two nickels to rub together, as my Granny would say. You can set out a delicious and WLS-friendly appetizer buffet, make a big bowl of WLS-friendly punch or Hot Mulled Cider Mocktail, put some good music on, and it's a holiday party!
Here's your Bariatric Foodie menu for a WLS-friendly Holiday Party that will have your friends and family begging for more! Best of all, they won't even know it's healthy!
Dips and Spreads:
Jen's Cuban Sandwich Spread
Creamy Crab Dip
Curried Chicken Salad
Jane's Spicy Jalapeno Dip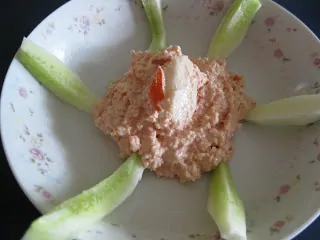 Creamy Crab Dip
Appetizers/Finger Foods:
Spinach Balls
Nik's Magic Meatballs
Tilapia Stuffed Mushrooms
Thai Chicken Skewers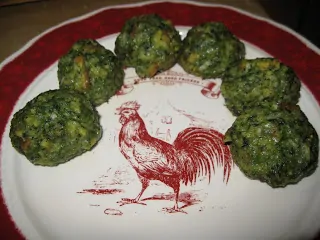 Spinach Balls
Desserts:
Nik's protein cheesecake
Jen's chocolate trifle
Nik's pumpkin roll cake
Nik's cheesecake cheeseball with fruit slices
Protein Cheesecake Cheeseball
Drinks:
Hot Mulled Cider
Nik's Sugar Free Egg Nog
Witches' Brew Punch (call it Happy Holidays Punch)
Nik's Citrus Green Tea
Nik's ideas for Flavored Waters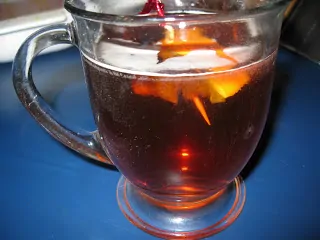 Hot Mulled Cider
So there's your menu, all you need now is to light a few candles, turn on the Christmas tree, and light the fireplace. Don't have a fireplace? Put a Yule Log DVD in the DVD player and it will put one on your tv screen.
Now all that's left is to set up some tunes on the stereo. Here are a few of my personal favorite Holiday albums that are excellent in the background of a party. (Yes, I have eccentric taste in music, thanks for noticing.)
Music Suggestions:

 Harry Connick, Jr–When My Heart Finds Christmas
Harry Connick, Jr–Harry For The Holidays
Bing Crosby–Christmas Classics
Etta James–12 Songs of Christmas
Martina McBride–White Christmas
Glee Cast–The Music, The Christmas Album
 Various Artists–Now That's What I Call A Country Christmas
 Taylor Swift–Holiday Collection/ Sounds of the Season
 Louis Armstrong & Friends–The Christmas Collection
Ella Fitzgerald–Ella Wishes You A Swinging Christmas
There you have it, a simple yet fabulous holiday party all on one page! So call your friends, set out some snacks, and relax and enjoy your guests!