~~posted by Jen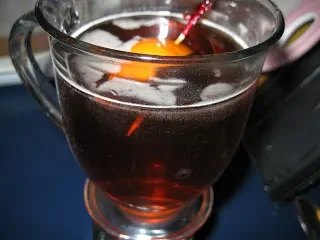 It's been a VERY cold week here in New Jersey, last night it was uh 19 degrees. Not exactly the time for an icy beverage! That's why for this week's mocktail I made over a winter-time favorite. Every year during the holidays, I always make a big pot of mulled cider and let it simmer on the stove. It makes the house smell SO nice, and it's a delicious warm drink when friends drop by.
I've always called it mulled cider, but it's also known as Wassail or Glogg in other areas of the world. My original mulled cider traditionally has a bit of Captain Morgan's Spiced Rum in it, and sometimes red wine as well, but I had to come up with a mocktail version that would fit my post-op Weight Loss Surgery lifestyle. (That means sugar free and alcohol free, for you non-op readers in the crowd.)
The good news? WLS-friendly also means kid-friendly in this case, so your children and their friends can enjoy this wintry warm-up, too! This recipe is for an individual serving, but you could increase it based on how many people you need to serve.
You can make up a big batch in the Crock Pot, then just leave it on "Keep Warm" and don't have to worry about keeping an eye on the stove. Float some orange slices and cinnamon sticks in the pot to make it look more festive.
If it's for a party, set your mug tree loaded with holiday mugs right by the Crock Pot and everyone can serve themselves. I think this is a tasty way to warm up, and you can enjoy it with or without protein added.
Here's how it's done:
Jen's Hot Mulled Cider Mocktail
Ingredients:
6 ounces water
3 ounces Diet Cran-Apple Juice
1 single serve packet Sugar Free Apple Cider mix (I also found it at Wal-mart)
1/2 teaspoon Apple Pie Seasoning
1/2 teaspoon butter flavor extract
1/2 teaspoon Rum extract
1 tbsp Davinci Sugar Free Caramel Syrup
Optional: 1 scoop Any Whey Unflavored Protein Powder
1 cinnamon stick (for garnish)
1 orange wedge or slice (for garnish)
Directions:
Heat the water and diet cran-apple juice in a microwave safe mug until warm. Remove from microwave and whisk in the cider mix, seasoning, Davinci syrup, and extracts. If you're adding protein powder, whisk it in now until it's completely incorporated. Return mug to microwave and heat for another 30 to 45 seconds or until desired temperature. Garnish with a cinnamon stick or orange wedge/slice. Serve warm.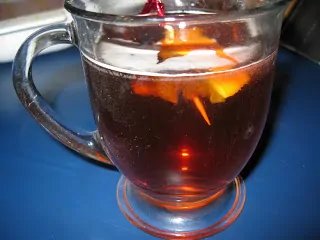 I garnished mine with an orange wedge skewered on a party toothpick (makes it easier for your guests to remove it)