~~posted by Jen
I have a deep and abiding love for dips of any kind. I'm not quite sure where that comes from, but it has certainly served me well during my WLS journey, especially early out. The best thing about dips and spreads is you can totally make them up as you go along and they rarely come out bad. This particular dip is a WLS friendly version of one that my good friend Charlott (yes, no "e", I know y'all keep wanting me to misspell stuff lol) used to make back in the day for Georgia Bulldogs Football games on Saturday afternoons.
We'd all gather at her house, have appetizers and drinks, throw something on the grill, and hang out. The guys would light us a big bonfire outside (she lived on a gigantic horse farm) and they'd watch the 'Dawgs kick butt while the girls sat out by the fire and talked for hours.
Once the game was over, the boys would either join us outside or start a poker game. Sometimes we'd all play Monopoly or some other obnoxious board game, then later back outside to roast marshmallows with the kids and make s'mores. That was big time fun on a South Georgia Saturday night when you lived out in the boonies like we did!
This is perfect for any post-op WLS stage from pureed on up. You could always add some unflavored protein powder to it, if you want to add even more protein. Just make sure you taste it, I've never added protein powder to it and don't know how that would change the taste.
If you don't like crab meat (or imitation crab, which is what I used), you can substitute shrimp or even salmon. I personally prefer the crab or shrimp, but like we always say, play with your food!! If you do try something different and like it, tell us about it! Make sure to snap a pic and send it to us so we can add you to our Fan Food Porn album on Facebook.
Jen's Crab Dip


Ingredients:


8 oz cream cheese, softened (you can use reduced fat, I used regular)
1/2 cup Greek yogurt
8 oz reduced sugar cocktail sauce (3/4 of a bottle, or make your own with sugar free ketchup and prepared horseradish)
16 oz Imitation Crab meat (if you can afford the real stuff, certainly do that, or use cooked shrimp. This is a great way to use up leftover boiled shrimp & make it something different)
optional: sprinkle of Old Bay seasoning



Directions:


Combine cream cheese, Greek yogurt, cocktail sauce with a whisk until well blended. Fold in the shredded crab meat (or shrimp) and mix until well combined. Sprinkle with a little bit of Old Bay if you choose, but it's not necessary. Now here's the part where you make the choice, you can serve it just as is, or puree it in a food processor



I choose to whiz it up in my mini chopper
, that way you can spread it on a Wasa cracker, Flatout, or 1/2 a bagel thin for a "sandwich" OR eat it with a spoon. If you're early out, DEFINITELY puree it, and maybe make only half a recipe at the time so it keeps longer. Store in a covered container in the fridge for up to a week. It may separate a bit after the first couple of days, just stir it well before serving.





















One bite of this crab dip takes me back to those fun Georgia nights of my roaring twenties. I hope you like it as much as I do!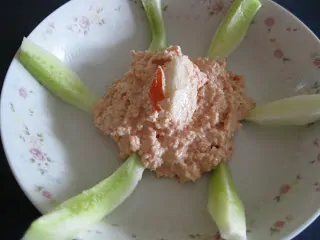 Jen's Crab Dip with Cucumber spear dippers