~~posted by Jen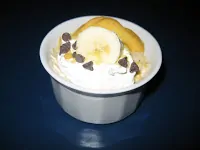 As you can imagine, Nik and I are going bananas this week getting everything ready for the Holiday Preview on Saturday. So what more fitting way to pay homage to the chaos than some yummy banana recipes? Nik's Protein Banana Nut Bread is absolutely divine, if you haven't tried it yet, you should!!
On a side note, if you're coming to the Preview and didn't buy your ticket in advance, we can only accept cash or check payments at the door. We're not set up to process credit or debit card payments other than via PayPal.
So if you want to pay by credit or debit card, please do so via PayPal (link is on the right side of this page). You can even do this on the actual day (this Saturday), just MAKE SURE to print out your confirmation and bring it with you to the registration table.
Can't make it to party with us in person? We'll start shipping the Portable Previews next week, so order yours today to ensure delivery before Thanksgiving!
Moving on! I'm sure y'all have all heard at one point or another that Elvis Presley's favorite sandwich was a fried peanut butter and banana sandwich? No? Well, so legend has it, that was it. Apparently he sometimes liked chocolate chips on that very same sandwich.
I personally, in my pre-op life, loved a toasted banana/peanut butter/Nutella (chocolate Hazelnut spread) sandwich, so I could see his point.
That's obviously not a very protein forward or reduced sugar choice for my post-op Weight Loss Surgery life, so y'all know what I had to do. Yep, I had to find a way to make it work! So that is just what I did!
Which leads me to share with you:
Jen's "Elvis's Favorite" Banana Pudding


( This recipe makes 2 servings for me, early outs would omit the bananas and cookies & get 4 servings with the protein powder added. I make them in ramekins.)
Ingredients:
1/2 medium banana sliced
6 oz Greek Yogurt
2 oz Sugar Free whipped topping (such as Cool Whip), plus 2 tablespoons reserved for garnish
1 tbsp Sugar Free Banana Instant Pudding (adjust to taste)
1 tbsp Chocolate PB2
2 packets Splenda (adjust to taste)
1 tbsp Sugar Free Torani Caramel Syrup (or Davinci)
2 tsp Sugar Free Mini Chocolate Chips (optional–garnish)
4 Sugar Free Voortman's Shortbread cookies (optional)
1 scoop Vanilla Protein Powder (optional–but recommended for early outs if this will be a "meal")


Directions:
In a medium mixing bowl, whisk together the Greek yogurt, whipped topping, pudding mix, Chocolate PB2, Splenda, protein powder (if using it), and Sugar Free Caramel syrup.


Taste the mixture and adjust ratios to your personal preference for sweetness and flavors. (For example, Nik likes more peanut butter flavor than I do, so she uses more PB2.)


Assemble the pudding as follows: Place 1 cookie in the bottom of each ramekin, then 3 slices of banana on top of the cookies. Top with the pudding mixture. Garnish with whipped topping, chocolate chips, a banana slice, and the other cookie if desired.