~~posted by Jen


Butterscotch always reminds me of my Granny Sarah, they were her favorite.
Dessert week continues! Yesterday Nik shared her scrumptious "Apple Brown Nikki", the perfect WLS-friendly answer to apple pie or cobbler. Did you try the hot apple pie protein drink? No? Well make sure you do, it is NOMINOUS!
Whilst sipping my Clicktastic Salted Caramel Cocoa, let me start with my obligatory disclaimer about baking. I am not a baker, I am a cook. I absolutely abhor measuring (which drives Nik insane, btw lol) and this is probably why I am not too successful at baking things from scratch. Cookies or pies, I can manage those okay. Cakes? A whole other bowl of batter!
I am definitely from the "Cake Mix Doctor" school of baking. Give me a mix with the basic leavenings and crapola already in it, I can doctor that baby up like nobody's business! Best of all, it tastes so good that no one ever knows (well, except y'all) that I didn't measure all that junk out myself.
This is why I did a dance of joy when Pillsbury came out with their new Sugar Free Cake Mixes made with Splenda. They have two flavors available, Yellow Cake and Devil's Food. Happily for me, almost any cake I would ever care to make can be started with these two flavors. I found mine locally at Wegman's, but a couple of our Poucher Pals told me at the Holiday Preview that their Walmart Super Store carried them, too.
Nik's Walmart doesn't have them yet, so in the Baltimore area I would say try Wegman's, or have your local supermarket order them for you. (Stop n Shop here in New Jersey agreed to stock them for me starting this week. Publix in the Southeast is usually really accommodating about ordering special items when you ask.)
Worst case scenario, go in with a friend or two and order them online to split the cost of shipping. Sam's Club has also been said to carry them. Last time I was at Costco they didn't have them here, but that doesn't mean they won't sometime soon.
Now here's a handy cake mix doctoring trick that I figured out a long time ago. If you add an extra egg (4 instead of 3), and a couple other things, you can make a delectably moist pound cake from a cake mix and no one is the wiser.
A holiday offering for your Dessert Week and Thanksgiving dining pleasure, I give you Sugar Free Butterscotch Pound Cake. (I know you're shaking your head thinking, "Butterscotch?". Trust me, it works.)
Here's how it's done: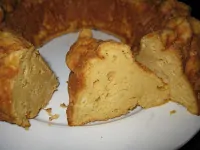 This is a very densely moist cake. YUM!
Jen's Sugar Free Butterscotch Pound Cake


Ingredients:
1 box Pillsbury Sugar Free Yellow Cake Mix
1 box Sugar Free Butterscotch Instant Pudding Mix
4 large eggs
1 1/4 cups water
1/3 cup canola oil
1/4 cup Greek Yogurt


Optional for glaze: Sugar free caramel sauce
, chopped pecans or walnuts


Directions:
Preheat oven to 350 degrees. Generously spray a 12 cup "Bundt" pan (I use the Williams-Sonoma "Autumn Leaf" pattern Bundt pan for Thanksgiving cakes, but it is discontinued. This one is my favorite for Christmas pound cake, they also make a Star of David pan for Hannukah.)


Add cake mix, pudding mix, Greek yogurt, eggs, oil, and water to the bowl of your stand mixer, beat on low speed until ingredients are combined and mixture is moistened. Then increase speed to high and beat for two minutes.


Pour batter into prepared pan and bake at 350 degrees for 45 to 60 minutes or until a toothpick or cake tester inserted in center comes out clean. Cool for 30 minutes on a wire rack, then invert onto serving plate and cool completely.


(Side note: If you don't have a stand mixer, use a big mixing bowl and your electric hand mixer. Then once the cake is in the over, go beat whoever your version of "Santa" is over the head and tell them to get you a stand mixer or you refuse to cook any more. And ask for spiffy cake pans too, while you're at it.)


Optional Glaze: Melt some Sugar Free caramel sauce (or Sugar Free Cake Frosting, you can get the vanilla and add flavoring to it) in the microwave for about 30 seconds or so then drizzle it over the cake and sprinkle some pecans or walnuts on top of the glaze to make it look festive.


This cake (without the glaze) freezes beautifully, I often cook it a week or sometimes even a month or two in advance, then wrap it tightly with freezer wrap and store it in an airtight freezer bag for up to 6 months in the freezer.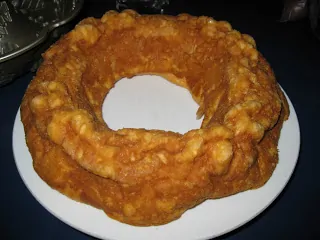 The leaves and acorns didn't come out as clearly as usual, I think because this batter is so much lighter than regular sugared batter.