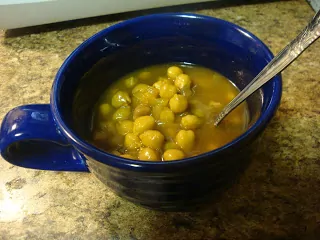 So my daughter comes to me one day and says, "Mom, I want to be a vegetarian."
At 10 years old it has always been a challenge getting the child to eat meat. As it stood, she only ate meat that, by appearance, made no reference to its animal roots. So…chicken nuggets, yes. Chicken legs, no. And beef was absolutely out of the question.
I already have a pretty good arsenal of vegetarian recipes…just cuz. So over the next week or two I gave her a taste (literally) of life as a vegetarian. This was one of her first dinners that week. I intentionally started out with something she'd already eaten and liked.
Nik's Curried Chickpeas
Ingredients
1 lb. chickpeas (garbanzo beans)
1 small onion, chopped
1 clove of garlic, minced
Optional: sliced raw carrots (did not use this time but I usually do)
10 oz. vegetable stock
10 oz. light coconut milk
4 c. water
1/2 tbsp each of cumin and coriander
2-3 heaping tablespoons curry powder (whatever kind you like to use)
Optional: 1/4 tsp red pepper flakes (don't use if you don't like spicy food)
Directions:
Open your bag of beans and inspect it for fragments of other stuff. It happens when they are bagged.
Place your onion, garlic and carrots (if you are using) in the bottom of your crockpot and put your beans on top of them.
Then add your spices and all your liquid.
Let your slow cooker go on low for about 5 or 6 hours or until chickpeas are tender.
I would imagine if I were a vegetarian, I'd label this vegetarian comfort food. I dunno. The diva liked it BUT… she decided a week later, in the face of Chick-Fil-A chicken nuggets, that she wants to be 98% vegetarian.
Ba-dum-bum.