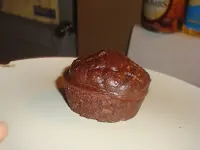 Raise your hand if you ever crave chocolate. Anybody? Anybody at all? (chirp…chirp…)
KIDDING! Any chocolate lover occasionally gets a craving for something chocolatey and when you do, really, what do you reach for? A candy bar? A fudgesicle? Me…I'm not a cold treat kinda gal most of the time and I dump so if I even THINK about candy bars it causes a reaction. So I decided to take matters into my own hands.
I have
Nessa
and
Pam
to thank for this little creation of mine. Nessa because she tried my protein brownie recipe and did NOT like the texture. I can respect that. The dang things weigh…nothing. And that can be a bit alarming. She started to put just a bit of flour in them and said the recipe improved ten-fold. I have Pam to thank cuz…well…we should all just make a routine of thanking Pam even if she hasn't done anything for us that day…without her I would be scared, lost, confused little soul. But specific to this situation she kept telling me about her banana nut protein muffins and those accounts wormed their way into my brain until I finally got a hankering to make me some muffins! 'Cept I didn't want banana. I wanted chocolate. Like those big ass chocolte muffins you get at Starbucks. 'Cept less calories and fat. So here's what I came up with:
Nik's Chocolate Explosion muffins
Dry Ingredients:
1/2 c. Carbalose flour
3 scoops chocolate whey protein
1/8 tsp. salt
2 tsp baking powder
1/2 c. Splenda granular
1/4 c. unsweetened cocoa powder
Wet Ingredients:
1/2 c. Egg Beaters original
1 small apple, peeled, cored, and finely chopped
1 c. Hood Calorie Countdown Choclate milk
Directions:
1. Mix together dry ingredients in a bowl. Set aside
2. Mix together wet ingredients.
3. Tip wet into dry and mix, mix, mix. Batter will be dense and REALLY sweet (don't worry…the sweetness works itself out in the oven.
4. Pour into sprayed muffin tin, filling each cup 3/4 full
5. Bake at 350 for 10-12 minutes
These things are easy to pop out of the muffin tin too which was a big plus for me. With the ingredients I used each muffin was about 70 calories and 9 grams of protein. I ate two for breakfast and am good to go.
Now I know this isn't the best picture…I am not that great a photographer, but I haven't given you all FP in a while so I figured I'd at least try. Better pic next time, I promise!