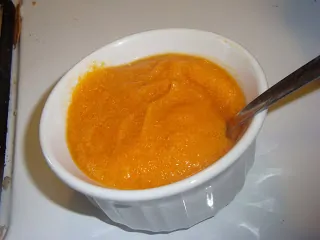 Ok…so not the best word association. But "orange" ya glad I didn't do that knock-knock joke?
(chirp…chirp…) Ok…moving on…
If you don't like vegetables, quite frankly, I think you might be crazy. Ok, that's mean. But seriously. Veggies have so much to offer in the way of flavor. And flavor is the one thing we THINK we lose in the equation of WLS but really we don't. We just have to change the way we produce flavor.
Take this little gem of a bowl here–I ought to call this beta-carotene in a bowl. But the actual contents kinda sound prettier.
Lemon-ginger butternut squash and carrot soup (long but still better than beta-carotene soup)
You are going to freak at how simple this whole set-up is.
Ingredients:
1 butternut squash, peeled, roasted, and cubed
1 package of shredded carrots (or you could shred them yourself. About a cup and a half)
Juice of one lemon + 1/2 tsp lemon zest
1 can chicken broth
1 cup 0% fat Greek yogurt
2 tsp minced garlic
2 tsp grated ginger
2-3 tbsp Splenda (or to taste)
Directions:
1. Bring chicken broth to a boil, reduce heat, and add garlic, lemon juice and zest and ginger.
2. Once that simmers to a boil add your squash and carrots. Cover and simmer about 30 minutes or so.
3. Add yogurt and, using an immersion blender, blend the mixture until thoroughly pureed. If you don't have an immersion blender, do it in batches in a traditional blender.
This is a bowl of comfort. Seriously. And it's a good way for new post-ops to get their veggies in. If you want to up the protein anty, add about a 1/2 cup – 1 cup reconstituted tvp before blending.
Ok, off to go find a stick of gum…I've eaten too much of this already!