~~posted by Jen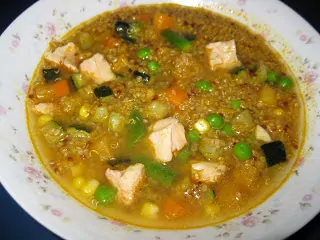 Quinoa and chicken and veggies, oh my!
Beef Barley soup was one of my "go to" recipes in my pre-op life when we were having people over on a Fall or Winter weekend. It was delicious and always a crowd pleaser, but I needed to change it a bit to fit my new post-op eating plan.
I traded in the higher carb barley for protein-packed quinoa, same texture but better for me, since it is a complete protein. I used chicken since I had some in the freezer left over from last week's Roast Chicken Dinner. You could also use a rotisserie chicken from the supermarket.
This is one of my "cheater" weeknight soups. You can have this from stove to table in less than a half hour. I took a little help from my pals at Trader Joe's with their frozen Quinoa with Roasted Vegetable Melange. I added some extra frozen mixed vegetables, just because I like lots of veggies in my soup.
Worried about breaking the no drinking with meals rule of the pouch when eating soup? If it's a broth-based soup like this one, I usually drink the broth first, then eat the rest of the soup ingredients. That way I am done drinking before I eat any solids, which is the whole point of that rule, so we don't stretch our stomas.
So here's how it's done:
Jen's Chicken Quinoa Vegetable Soup


Ingredients:


3 cups shredded or cubed roast chicken (or rotisserie chicken)
2 bags Trader Joe's Quinoa with vegetable melange
OR 2 cups cooked Quinoa
1 (16 ounce) bag frozen mixed vegetables
4 cups chicken stock
1 tbsp Garlic powder
1 tbsp Onion powder
1 teaspoon Ground Cumin
1 (14 1/2 ounce) can diced tomatoes, including the juice
Salt and Pepper to taste
3 or 4 scoops Any Whey Unflavored Protein Powder (optional)
Directions:
Cook the quinoa in your microwave or rice cooker according to package directions. While it cooks, pour the chicken stock and can of diced tomatoes (juice too) into your dutch oven and bring it to a boil on top of the stove. Add the mixed vegetables, garlic powder, onion powder, and cumin. Stir well to combine.
Once the quinoa is done, add it to the stock mixture on the stove and stir to combine. Let it simmer just until the vegetables are tender. Taste for seasonings, add salt, pepper, and any other spices it needs. If you're adding the protein powder, add it at the very end of cooking and whisk it in thoroughly.
If you're early out and on pureeds, you could puree this in your blender or with your immersion blender. This recipe is 143 grams of protein for the WHOLE POT of soup, so this is one you would most definitely want to consider adding the Any Whey Unflavored Protein Powder to at the end, or at least to your own personal serving. 1/2 scoop per 4 oz of soup is the usual amount we add.