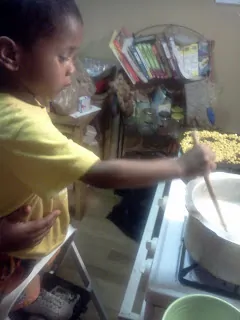 I know you all think I'm exaggerating but honesty – this dish disappeared so fast I didn't have a chance to take a picture of it. I wanted to share it anyway because it is good. I'm sorry I don't have a picture.
This day I had to scrub down my whole kitchen before cooking (because it was driving me nuts) and did all the stray dishes in the house. My three year-old nephew Isaiah was visiting and, come to find out, he LOVES to cook. So after all that cleaning and managing a pint sized sous chef (and documenting THAT for the future blog post), I was just too darn tired to snap a pic of the chowder when we finally ate. And the little suckers inhaled it.
Moving on…take my word for it. It's good.
Chowder! I love the stuff. I primarily make seafood chowders in the summer but I had some extra chicken and ears of corn that needed using. To me, chowder is an effective way to have comfort food in the summer. It's too hot to be bothering with the oven and this whole thing can be made using one grill pan and one pot. Beautiful!
Nik's Chicken and Corn Chowder
Ingredients:
4 boneless, skinless chicken breasts
5 slices of center-cut pork bacon, cut into bits
1 cup water
Either:
4-5 red potatoes diced
OR (equally as good, I've tried it)
2 cups of cauliflower florets, rough chopped
1 medium yellow onion, diced
1 large clove garlic, minced
2 large ears of sweet corn, niblets removed (or 2 cups corn niblets)
2 tbsp Carbquik or Atkins baking mix
1 bundle of thyme
1 c. half and half
2 c. skim milk
Salt and pepper to taste
Directions:
On a grill or in a sprayed grill pan, cook chicken breasts thoroughly. Transfer to a plate to reabsorb juices.
In a large pot, fry bacon pieces. Center cut bacon won't yield as much fat (which is why I chose it), so be warned.
Once bacon is cooked, add in water, diced potatoes (or cauliflower) garlic and onion. Cook, over a medium flame, stirring often, until the potatoes are cooked (about 10 minutes).
Stir in baking mix thoroughly then add the milk, half-and-half and thyme bundle. Cook until milk begins to simmer, then drop the flame to low. Taste and add salt and pepper as necessary. Stir and cover.
Allow to cook an additional 20 minutes or so, stirring every so often. Liquid should thicken a bit.
Remove thyme bundle and cool before serving. Chowder will thicken even more.
This chowder is great with nearly anything you want to use. Throw some clams and clam juice in there for New England clam chowder! Add some crab and bit of your favorite cheese for a cream of crab soup.
I personally have aspirations of a shrimp and bacon chowder. Call me crazy, but I think it could work.