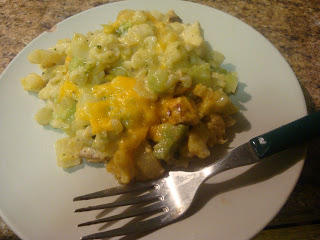 Ok, so let's talk about condolence food.
You know what I'm talking about. Someone passes away and
family, friends, people you hardly even know start bringing you food. Yummy
food. Comforting food. Carby food.
For my part, I have sort of been picking at the condolence
food, much to the chagrin of La Petite Diva who has appointed herself my grief
counselor. It is her mission to ensure I get three squares a day and I was NOT
doing that for a minute. (After employing some good old fashioned Chinese water
torture she has reformed me.)
But all that is to say this dish is what I call a "recovery"
dish. I needed some vegetables in my life. BAD! The children did too. Although
La Grande Diva nearly fainted away of sheer joy upon receipt of a gamillion
piece box of fried chicken from Super Wal-Mart (who even knew they SOLD fried
chicken???)
To get us all headed back down the right eating path, I fixed
this casserole. Interestingly it passes both girls veggie radars. Ordinarily
the older girl loves broccoli and the younger hates it BUT I recently learned
that there is an exception to that clause. We'll call it the "cheese clause"
and we'll say it states "With liberal exceptions a small fraction of ordinarily
unacceptable vegetables will be considered and perhaps even ingested with the
addition of cheese."
Broccoli falls under this clause. Hallelujah!
Nik's Cheesy Chicken, Broccoli & "Rice" Casserole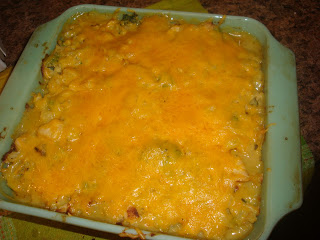 Ingredients:
2 large chicken breasts, grilled and chopped into small
pieces
1 small onion, finely diced
1 package of frozen broccoli pieces (not florets…pieces…there
is a difference)
1 can (10 oz.) of lowfat cheddar cheese soup
½ c. milk
1 c. each shredded sharp and mild cheddar cheeses
Salt, pepper, onion powder, garlic powder and any other
spices you like
Directions:
Fistly, if you don't already, check out my no fail
tender chicken marinating technique (included in this post) before preparing your chicken breasts.
Preheat your oven to 350 degrees.
Boil your broccoli until it is the desired consistency
then drain.
Sautee your onion in a pan with nonstick and add any
desired spices
In a large bowl, combine chicken, onion, cauliflower
rice and cooked broccoli pieces. Add soup, milk and half of each kind of cheese
and mix well.
Transfer to a casserole dish and top with remaining
cheese.
Bake for 30 minutes or until cheese is melty.

If you are not cleared for cruciferous veggies like broccoli and cauliflower yet (or
worried that these might upset your system…or just don't like broccoli and cauliflower) zucchini works great in place of broccoli
and spaghetti squash in place of the cauliflower. It is still yummy and so
comforting you won't miss the carbs!