~by Nikki
Life moves pretty fast. And these days you have to keep up with it if you want to be successful.
So now we've all become kings and queens of multi-tasking! Why just the other day I chewed gum while doing the dishes (chirp…chirp…). And just as we've taught our brains to be able to serve many functions on the go, we gotta stock ourselves with tools that take our new healthy lifestyles right along with us!
That's why we've come up with our top 5 ways to take your weight loss surgery with you!
#5 Portable Digital Food Scale
We'd say this doesn't exactly apply to new-newbies…and we'd hope by the time you are approaching WLS "old age" that you've learned to eyeball pretty accurately. Even if you didn't, and especially for those in the middle, we suggest this little baby. It has a tray to measure food with a to-the-gram accuracy for up to 16 oz. (that's a pound of food y'all…you won't ever come close to maxing this thing out). The tray doubles as a lid for traveling and it's super light. Now…we just have to work on your technique of whipping it out with pride! Because no matter WHAT they tell you, food consciousness is sexy…
#4 Resistance bands
One might not think of this an "on-the-go" tool, but they come in handy! There have been many times when I could not make it to the gym and whipped these suckers out of my trunk and fashioned a workout from them. I remember one time in particular, when my job was crazy busy, I brought them into the office, stationed one foot on the tightest band, and arm curled my way through my frustrations.
My family has a history of going overboard for Christmas. Well last year my brother asked what I truly wanted. I told him I wanted one of these. It was cheap and it fit in his budget. Of all the fancy schmancy gifts I got, I use this the most. It blends up my protein shakes perfectly wherever I am and the "pitcher" is a travel cup that fits in your car cup holder. What could ask for more?
#2 Ipod Touch
Yes, we know we put this in the last top 5 too! We cannot say enough how useful this thing is. When you need an impromptu workout, you can go to this thing, that is loaded up with your favorite grooving tunes, and just walk it out. No matter where you are and what you are doing there is usually ALWAYS room to walk, yes?
#1 Pouch Party Tips!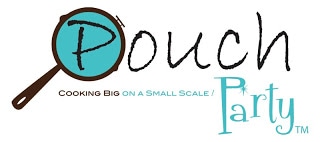 Yes, this is shameless self promotion. Cuz if you can't promote yourself, who can promote you? Text "follow @pouchparty" (minus the quotes) to 40404 and get our tweets sent directly to your cell phone! (standard text messaging rates apply) I follow a couple of useful folks by text and find that their tweets come through right when I need them the most!
So there you have it, five solid ways to take your lifestyle with you on the go. Now what are you waiting for? Move it!