For all my U.S. readers, Turkey Day come-eth!!!
This day can be a bit nerve-wracking. After all, it's a whole day dedicated to eating!
And as much as they tell us the holiday is about thankfulness, for many of us it just doesn't play out that way. Because let's be real: in many families it's about the two f's – food and football.
So what to do? Well, I have some suggestions for coping with the mental aspects of Thanksgiving, but so far as the food…you need a plan.
Here are five of my favorite side dish recipes from right here on the blog to help you out!!! (Click the dish title to go to the full post.)
("What?!?!?! I thought corn was EVIIIIIIIIILLLLLL????")
In and of itself…no. BUT I would encourage you to defer to your surgical plan on when to eat corn. If you aren't allowed corn, skip this recipe!!! I believe corn pudding is a Southern specialty and it was contributed by BF's former resident Southern Belle, Jen. We served it at last year's holiday event and it was one of the very few recipes from that event that we shared on the blog. Any way you slice it, this stuff is GOOD!

I always thought this recipe was unique to my mother. Turns out it was unique to a lot of people's mothers AND my heritage is a bit more southern than I realized. For those who don't like okra (even though I assure you that if you cook this by the directions given it will NOT be slimy!) you can sub in some zucchini. As a matter of fact, if you don't want to do the corn, you can also do yellow squash. This is a really good veggie side dish that's festive to boot!
Attendees of the 2011 Bariatric Foodie Holiday Food Tasting got to experience not one…but TWO remixes of this Thanksgiving classic. That was interesting for me because my family has never made green bean casserole on Thanksgiving (but if you forget the collard greens you are in BIG trouble!) so I really enjoyed getting to know this dish. Here's a version of the classic that you can feel good about serving on your table.
Four Cheese Mashed Cauliflower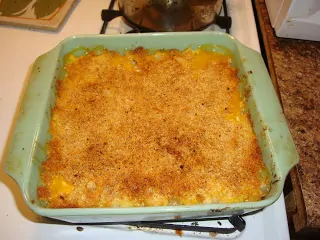 Aside from taco casserole, this is the most visited post on this blog! I love this stuff and my kids do too. One note: this dish doesn't tend to replace homemade mac 'n cheese per se…but it is a reasonable alternative to most, especially if you add your favorite seasonings and let the dish get nice and brown on top. I mean, who can resist CHEESE???
Cranberry Sauce
(Jellied and Whole Berry)
True story: for YEARS my family had this one particular can of cranberry sauce in the fridge. We did not open it or move it. We simply paid homage to it every Thanksgiving (and had another can we'd actually crack open). Well, one year someone (I think it was my brother) threw away the can of cranberry sauce. There was a pox on our house!!! Let's just say we have a replacement can…along with a note attached strongly suggesting nobody moves it.
For those of you who'd actually like to EAT some cranberry sauce, here's a sugar-free recipe that's a winner. I made this last year and it was well received. I added just a bit of ground ginger to the party and wow! Flavor out the wazoo!
Tomorrow, I'll share my top five favorite dessert offerings. These are so good you don't even have to tell the fam they are healthy! Stay tuned.