Newbies, veterans, non-ops…lend me your ear.
Meat. It is challenging post-op. For some of us it's chicken, for others it's beef, but many of us simply have a hard time tolerating meat.I have a solution.
I've included this method in many posts, but I feel it deserves a post of its own. In cooking demonstrations, SOMEHOW I have convinced some very strong and brave post-ops to try formerly intolerable meats using this marinating method and MOST were then able to tolerate those meats. So I have hope that if you are just willing to give this a TRY it might work for you too.Do you feel brave? Be brave with me!
The Bariatric Foodie Secret to Marinating Meat
(For me, the challenging meat would be beef, but I SWEAR this works for chicken and pork as well!)
Step One
(Do this either the day before or the morning of the day you plan to cook the meat)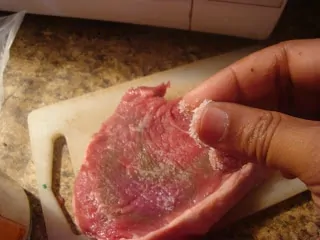 Season up your meat well with basic salt and pepper (or Mrs. Dash or whatever basic spice you like).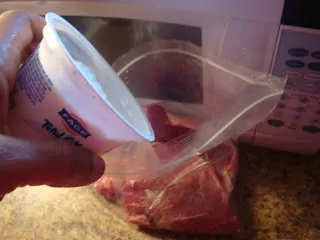 Then combine it in a zip-top bag with Greek yogurt and any desired "special" spices (for instance, if you are doing a Mexican dish you might add cumin and coriander, Indian you might add your ginger and garlic, Chinese you might add soy sauce and pepper flakes, etc.)
Step Two
(When it's time to prepare the meat)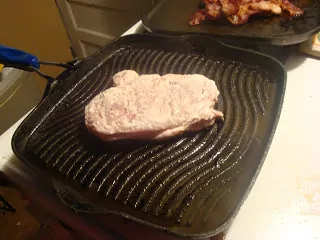 Remove the meat from the bag with a pair of
kitchen tongs
and shake it gently to remove the excess yogurt. Add any additional spices you wish, then cook it as you would normally cook it. I promise, the yogurt will cook off.
Step Three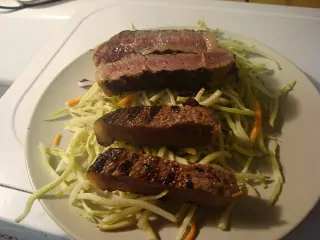 See? Nary a trace of yogurt left on this beef!
EAT! That's honestly it folks. WAIT! That's not entirely true. If you grill chicken or steak, let it "rest" on the cutting board a few minutes before cutting it. This gives it a chance to reabsorb some of its juices and it remains very tender and moist. A few notes:
The longer you marinate, the more tender the meat will become. Once I got sidetracked and marinated some chicken  for two nights and I could literally tear it apart like paper.
Yes, this does add a NEGLIGIBLE amount of additional protein to the chicken.
I personally don't notice the taste of the yogurt, but you may. It's in there. What can I say? But usually if you season the yogurt then season the meat, the meat will taste like the seasoning.
I have NOT tried this method with ground meats but I do know it works on smaller cuts of meat, like stew meat as well.
Having said that, this does work well if you are changing the form of the meat AFTER marinating it. For instance, if you cube chicken that has been marinated this way it will remain tender. Heck if you grind it, it will as well. I just can't vouch for mixing this with already ground meat!
In the end, if you want to incorporate things like steak and chicken breasts back into your eating, this method is worth a try. As always, I am a BIG advocate of the "bite test" (take a bite, chew well, swallow, wait a full two minutes for a reaction, repeat once more. If everything goes ok, proceed SLOWLY).I hope this helps you bring the foods you love back to your table!