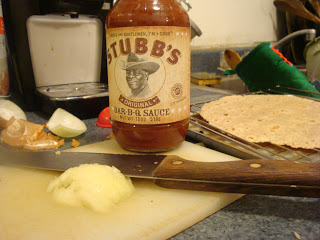 So you may remember a month or two ago, I received, reviewed and gave away a Kalorie Box and I did a more detailed review on each of its contents…except one: Stubbs BBQ Sauce.
There's a reason for that.
See…I have to be in a BBQ kinda mood. And I wasn't then. Between my surgery and my day job (wherein your girl Nik actually DOES write about hungry people around the world) I have found out two things about myself:
I can't stand to waste food.
No amount of convincing can get me to consume a food I'm not in the mood for.
Having said all that…I recently found myself in the the mood for BBQ and remembered I had this jar in my pantry, tucked away nice and safe. So I decided, what the heck? Let's give it a whirl. So here goes.
The Big Picture
Serving size: 2 tbsp
Stats: 30 calories, 6g carbs, 4g sugars, 0g protein
Other "neat stuff": per their website, they use all-natural, gluten-free ingredients
Aesthetics
Smell: like BBQ sauce although I can tell by the smell it is going to be a "tangy-er" sauce
Look: a bit thinner than traditional BBQ sauce (probably because it doesn't use a bunch of starch to thicken it, hence the lower carb count). Lots of spice bits in there. I was encouraged!
Taste: I did a finger-dip before using it in my intended dinner cuz…well…refer to #1 in the list above. If I use it, I gotta eat it! I was pleasantly surprised. I was right. The sauce was tangy, pleasantly sweet (but not overly so), didn't taste like any artificial sweetener and had a slight kick to it to boot!
Now…on to how I used it.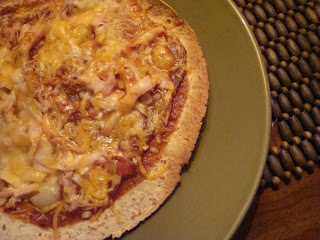 My friend Kafi would be happy to know that I took this pic with my regular old point and shoot so she is right…it's not the camera but the technique!!!
So having just survived the onslaught of indulgent food at Christmas I was in the mood for something a bit more culinarily responsible, so I actually turned to one of my fave bloggers for inspiration, Shelly over at
The World According to Eggface
. She has the tortilla pizza market on lockdown! (Which by the way is why you don't see many here…I'd probably be inadvertently copying one of her recipes anyway!)
Now I'm not going to lie and say that I had leftover turkey from Christmas. I didn't even cook a full dinner! BUT I was in the mood for turkey so I used the deli variety and combined it with the sauce (about 1/3 cup), some finely diced onions and 1/4 cup shredded Colby Jack, threw it in the toaster oven for about 10 minutes and voila! Pizza heaven.
Which leads me to…
Final Verdict
I liked the sauce overall. I sorta wished it was a bit thicker but in exchange for those carbs I'll take a thinner sauce. The kick in it appealed to me. You all know I love my spicy stuff. And the sauce paired well with the other pizza ingredients. I do think, however, this sauce would shine in some recipe with a softer, milder cheese, like cream cheese or even goat cheese to counterbalance that tang.
So all in all I liked it and look forward to putting the rest of the bottle to good use!