~~posted by Jen




Nik and I always like to say "ask us anything!" and we'll figure out a way to make a food you love more WLS-friendly. This is no exception! Our friend Amy S asked me a couple weeks back for a healthier version of potato latkes she could make for her family on Hannukah. Even though this is technically Leftovers Week, today is the first day of Hannukah, so I wanted to publish this today in time for the holiday meals.
I've been working them out for a few weeks now, and finally have it figured out! These will never be a "figure-friendly" dish, but as part of tradition, should absolutely be enjoyed in moderation. My ex-husband and his family are of Irish-German descent, so I know a bit about working with potatoes.
I'm currently dating a Russian who also happens to be Jewish, so now I am getting up close and personal with the latke of it all! (Just a little backstory for those of you who were wondering what the hell a southern girl from Georgia knows about a latke.) S'anyway! Since today is the first day of Hannukah, this is our little "gift" to you, Amy!
I didn't have to venture too far outside my usual method for making these, but I did make a couple of tweaks. Now for the purists in the crowd, I am WAY too lazy to peel and shred all those potatoes by hand. If that offends you, I am sorry. But as long as the good folks at "Simply Potatoes" keep making them already shredded and drained in that purdy little green package, then that is how I'll be doing it.
If you wanna be old school and peel and shred, then by all means do so! Bear in mind, my flavors may not be what your family likes, these are how MY family enjoys them. (They prefer less salt, so I use lots of herbs to give the latkes more flavor.)
So play with your food, make it your own! Here's how I made them:
Jen's Protein Potato Latkes
Ingredients:
3 (1 lb 4 oz) packages Simply Potatoes shredded hashbrowns (in the refrigerated section)
4 scoops Any Whey Unflavored Protein Powder
5 jumbo eggs
6 tbsp parsley flakes
2 tbsp dill
3 tbsp onion powder
2 tbsp garlic powder
1 tbsp salt
1 teaspoon pepper
1 cup Wondra Flour for gravy (comes in a blue can, right by the regular flour) (you could use whole wheat flour, but I like this best)
Vegetable or Canola oil for frying
Directions:
In a small bowl, beat together the eggs and seasonings. Meanwhile, in a large mixing bowl add the protein powder to the potatoes and mix until completely incorporated. (Ignore the vanilla cupcake aroma of the protein, it does not have a smell or taste when you cook it, I SWEAR!!)
You might notice that the protein draws some more liquid out of the potatoes, but this is ok. Once you add the flour and eggs it will be the perfect consistency. Pour the egg mixture into the potato mixture and stir well until thoroughly combined. Sprinkle in the flour and mix it in. (I usually use my hands for this part, you don't want to overwork the flour and develop the gluten.)
Spray your hands with cooking spray to prevent the latkes from sticking to your hands as you pat them out. I usually make them up and put them on wax paper, since this recipe makes so many at the time. They're better cooked fresh, so I just cook what will be eaten for each meal then stash the rest in the fridge or freezer. They keep in the fridge for up to 4 days in an air tight bag, layered in wax paper.
Preheat the oil in a non-stick skillet, once it starts to ripple, add your latkes in batches of 4 or 5 at the time. Fry for about 2 or 3 minutes per side, until golden brown and crispy. Remove to a platter layered with paper towels to drain. Serve immediately.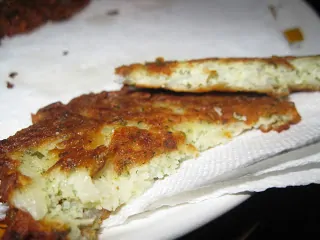 The protein powder doesn't affect the taste or texture AT ALL