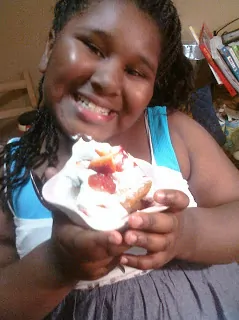 As Bariatric Foodie forges into the future (wow, that was a lot of "f's"), you're going to hear me talk more about eating healthy as a whole family. Why? Well, several reasons.
First, because I don't think that we go into WLS with the intentions of only changing ourselves. While we know and understand that we can't make others eat more healthfully, we hope. Second, the whole premise of this blog is to enjoy our food lives and part of that enjoyment is sharing meals with others!
For me, those others are my daughters, Annikki and Zariyah (collectively known as "the divas"). Up to now, I haven't used their names much, mostly because kids Google and I wasn't sure how they felt about the whole world knowing their mom was a Bariatric diva! Just the other day, they both professed undying pride for what I am doing with Bariatric Foodie and gave me the blessing to share their names with all of you ($10 bucks to the person who can correctly write out the phonetic pronunciation of their names).
S'anyway…how does this all relate to today's post? Well, this is one of those instances where I went on a mission to find something good for my kiddos. They like dessert. What kid doesn't? But between school, grandparents, neighbors and their own pocket cash, at the end of the day they've consumed WAY more sugar than I want them to. I'm trying in earnest to teach them about moderation but my kids are truly like everyone else's. They don't have any interest in learning about balance when it comes to treats.
You might also remember I have a rule about treats in my house. Being a single mom I can have this rule where some of you married folks can't. In my house, if I can't have it, neither can they.
Which brings me around to the dessert my lovely little diva is holding. We had a movie night. It was the same night I made that gargantuan whole-wheat lasagna. Later on that evening I served this for dessert. It isn't a recipe so much as it is a collection of stuff that is well put together. At any rate, here it is:
Nik's Strawberry "Tall" Cake Stack-ups
(sorry the picture wasn't better. I didn't realize it was so washy until I uploaded it!)
Ingredients
1/6 of a sugar-free angel food cake (I got mine from Super Wal-Mart)
3 heaping tablespoons of whipped cream
3 large, ripe strawberries, sliced
1 tablespoon sugar free strawberry preserves
Directions:
Microwave your strawberry preserves for about 15 seconds or until it turns to liquid.
Cut your cake into two pieces. Set one piece in the bottom of a dessert bowl. Top with about one teaspoon of the warm strawberry preserves.
Top the preserves with whipped cream and then the sliced strawberries. Repeat.
Top it all off with one last dollop of whipped cream for good measure.
Believe it or not, this dessert is not even 150 calories and my kids felt like they hit the jackpot!
So yes, it is possible to recruit your family into the church of healthy eating! Stick with me and I'll show you more ways to bring your family to the light…
For even more great dessert ideas click here or if you are REALLY brave… here!