~by Nikki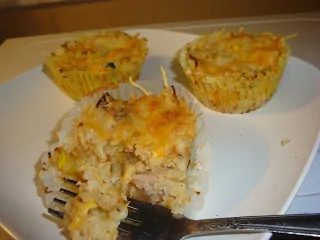 I feel like I've deceived you peeps. The way I talk about my divas, you'd think they were these little culinary adventurers, ready to take on every new veggie and protein source with an open mind and an empty stomach.
No. Sometimes when I propose (or make) new dishes they, like you, look at me like I am flippin' crazy.
And sometimes they like what I make (like the chicken nuggets I posted yesterday), sometimes they don't. They are not inherent vegetable fans. I get them their veggies employing a combination of trickery, magic and bullying. But no…my kids aren't very different from your kids. The only difference (maybe…cuz I don't know your kids) is that if they don't eat what I cook, they have few other choices. So they usually err on the side of eating what I cook.
Anyhoo…one thing they did like (color me surprised) is cheesy mashed cauliflower. I like the stuff too. You can't go wrong with it! Well over Thanksgiving, my cousin made her mac 'n cheese, but she made it in super cute cupcake cups. She's been trying hard to support me in my new lifestyle so she thought making them this way would encourage portion control across the family.
Well…I don't know that it worked out that way. I saw some folks working on their fifth and sixth cup. But I thought it was a cute idea and I know my divas love good food presentation! So I tinkered with it and came up with a recipe that was a hit!
Nik's "007" Cheesy Mashed Cauliflower Cups
(I call them that because I went "covert" and snuck some other veggies in there)
Ingredients
1 medium head of cauliflower (or you could go all "semi-homemade" and get a bag of froze florets)
6 slices of turkey bacon, chopped
1 small onion, diced
1/2 yellow squah, finely diced
1/2 zucchini, finely diced
1 c. sharp shredded cheddar cheese
1 c. mild shredded cheddar cheese
1/2 tsp. garlic powder
1/2 tsp. onion salt
Black pepper, to taste
Directions: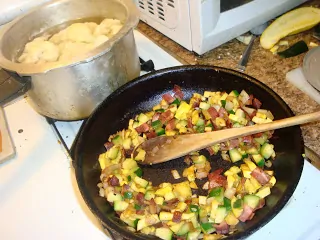 Excuse my clutter. I have that kind of kitchen 🙂

Step One: First, pre-heat your oven for 350. Next, bring a pot of water to boil and add your cauliflower florets. Cook until tender. They'll usually turn slightly yellowish in color when they are done. Meanwhile, in a pan, cook bacon until nearly crispy, then add onions, zucchini and yellow squash and sautee until vegetables are tender.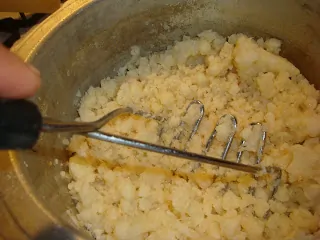 Step Two: Mash them cauliflowers! Pulverize them! Go ahead…take out your frustations from your husband/wife/teenager/newborn/boss/uncle/mom/dad…it's cathartic!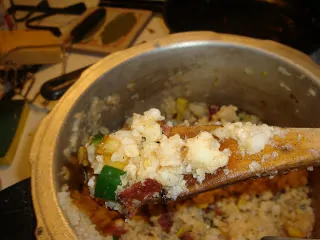 Step Three: Mix veggie mixture and cauliflower until well blended.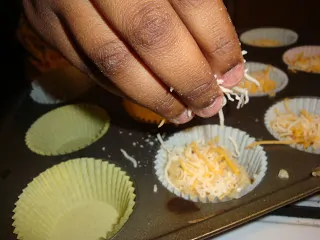 Step Four: Line a baking sheet with cupcake cup liners (my advice from experience…get the foil ones or some heavy paper ones. I'll tell you why in a minute). Fill them half-way with veggie mixture, then sprinkle them with cheese.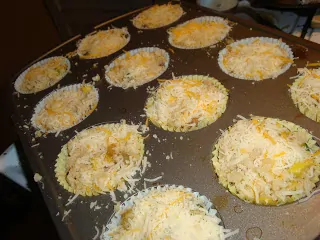 Step Five: Fill them the rest of the way up with veggie mixture and top with more cheese.
Step Six: Bake them at 350 for 30 minutes.
Observations:
First off, there was no doubt about the taste. The kids liked it and barely noticed the veggies. When we taste tested them, both girls wanted a second cup (see…that's the tricky part…do you give it to them peeps? Do you?)
I think you should use a heavier duty cupcake cup, though, because if you want to serve this hot (and you do) a flimsy cup will tear on you and you'll be wondering if you're eating cauliflower or cupcake cup paper. Foil ones work fine. I even saw Christmasy foil ones for folks who are into that.
At any rate, I felt a BIG sense of accomplishment. I got my kids to willingly eat vegetables. Do you know how big that is???
For you all, play around with this one. Maybe you don't like squash. That's fine. I could see a mixture of cauliflower and chopped brocolli working well. Or bell peppers. Or a million other things. If you come up with something good, hit us up. We'd love to hear (and see) all about it! Play with your food!