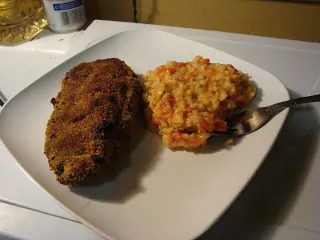 The dark complexion is no accident. I actually like my food darn near burned, but that's my issue…

Oven fried porkchops. Nothing new, right? Shake 'n Bake has had this on lock a looooong time, right?
Believe it or not, there's still room to make this just a bit more WLS-friendly.
How?
That trick I taught you guys about marinating your chicken in Greek yogurt? That works on pork as well.
With a few simple ingredients you can make your own, whole wheat oven coating for meat thats darn tasty with better carbs and less sodium.
The side dish is great both with traditional brown rice or cauliflower rice. You pick which one you use!
So here's how you achieve this dinner:
Nik's "Winner, winner" Pork Chop Dinner
Ingredients for pork chops:
4 boneless pork chops, visible fat trimmed
1 cup unflavored 0% Greek yogurt
2 cups whole wheat bread crumbs (I make my own…look for that tip in a future post!)
½ c. grated Parmesan cheese
¾ c. liquid egg substitute (or 3 eggs, beaten)
Salt, pepper, garlic powder and onion powder to taste
Optional: dried parsely flakes.
Ingredients for "Fake Me Out" Spanish Rice
1 bag cauliflower florets, boiled, drained and finely mashed
(if you using rice, use a prepared brown rice boil-in-bag)
1 can tomatoes/chiles (whatever heat you can handle), half the juice discarded
½ c. milk
½ c. grated Mexican blend cheese
Salt and Pepper, to taste
Directions:
The morning of the day you plan to make this for dinner, seal the pork chops in a zip-top bag with the Greek yogurt and leave in the refrigerator all day.
When you are ready to cook, preheat your oven to 350 degrees.
Mix together bread crumbs, parmesan cheese and seasonings in a bowl. Set beside your bowl of egg to make a dredging station.
Shake excess yogurt off pork chops (no need to towel dry) and dip first in egg, then bread crumbs, then repeat until a good coating is formed.
Place coated chops on a cookie sheet and bake about 35 minutes or until clear juices bubble up from the coating.
To make the "rice," simply combine cooked and mashed cauliflower with milk, cheese and tomatoes/chiles. Simmer over medium flame about 7 minutes or until cheese is no longer stringy and has melted into the milk. Turn heat off. "Sauce" will thicken upon standing.
Now, I have to out my children because they actually chose to make this an international meal: we went Americana for the chops, Mexican for the "rice" and…they requested sauerkraut of all things to go with it! Go figure.
At any rate, this was a real treat for me as I can't tolerate fried foods even when I am feeling rebellious enough to eat them! But I can't eat but so much of this either. As tender as the meat turns out, solid meat like that has a limit in my pouch, so usually I dice some up in a bowl (yes…like you'd do for a four year old), douse it with hot sauce and go to town!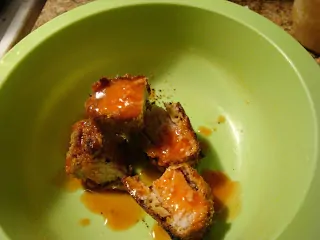 This is how Nik rolls with the oven fried pork chop!

Enjoy!