~~posted by Jen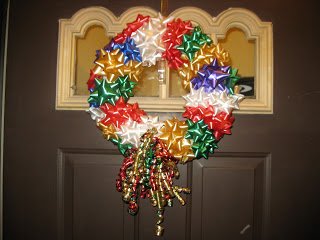 The finished bow wreath hanging on my front door




Don't laugh at me about this, ok? I know it might seem a bit ghetteaux fabulous to some folks, but I thought it was cute. It's definitely an inexpensive decoration, doesn't take much time to make, and it would be a great project the kids could help out with.
I had one of those humongous bags of leftover Christmas bows (the kind with the sticky stuff on back). Lots of people save these after the gift-opening is all done. If you do, this is a great way to reuse them. More and more lately I find myself getting into the whole "reduce, reuse, recycle" thing and trying to make something new out of things I have around the house.
It's kind of a challenge sometimes to see what I can come up with. Yes, maybe I do have too much time on my hands, thanks for noticing. Anyway, all you need to make this pretty wreath is some bows, straight pins, and a styrofoam wreath form. I used curling ribbon for the "bow." (Again, recycled from my gift wrapping stash.)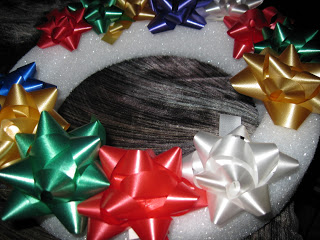 halfway through the process
All you do is pin the bows all over the wreath form, in whatever pattern you like. You may want to use a green foam wreath form so that any small blank spots blend in, or you could wrap ribbon around the whole wreath form before adding the bows to it. I came to this conclusion after mine was made, of course. But at least I know for future reference.
Once the wreath form is completely covered in bows, add the curling ribbon at the top or bottom, wherever you like. Then hang it on your door, wall, or wherever else you'd like. This would make a neat teacher gift or even for a neighbor. If you wanted to make it seem like something "more", you could always tie some small amount gift cards to it, like for Starbucks, 7-11, WaWa, or whatever stores they like.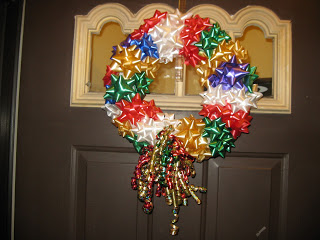 Cheap & Cheerful!