~~posted by Jen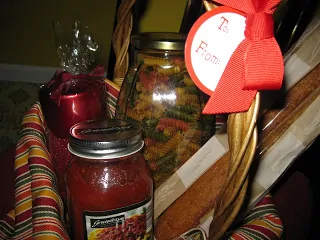 Basket: $2 at Michael's, Towel 50 cents at Walmart, pasta 66 cents at Stop N Shop, sauce $1.50 at Aldi, Candle $4 at Michael's, Baguette $2.50 at Panera Bread Total $11.16




This is a pretty tough financial time for most everyone, and it doesn't help that the holidays are upon us. So many people we need to give gifts to, yet so little money to spread the love! I'm a fan of homemade gifts, as y'all probably figured out from my "Gift In A Jar" post the other day.
So I decided to think up a few more creative ideas that will hopefully help get you through the season of giving without breaking the bank. Yesterday I was at Stop N Shop on a quest for whole wheat panko (you'll hear more about this in a future post), and I saw this new line of pasta from Ronzoni called "Garden Delights" that has 1 serving of vegetables included in every 4 ounce serving of pasta.
Well I don't eat pasta in my post-op weight loss surgery life, but my boys love pasta. Any way I can sneak in some extra nutrition without their knowledge, and I am there. This pasta was on sale for $1.65 a box, not bad for "specialty" pasta. Plus it had a 50 cent coupon on each box, which Stop n Shop doubles, so that brought it to 65 cents a box. At that point there was no way I wasn't leaving the store with at least a couple boxes of it.
On the drive home, it occurred to me that this would be another great gift idea. So I put together a pretty basket with the pasta in a jar (this is a pretty jar I saved from olives I got at Costco, ran it through the dishwasher and voila), a jar of marinara sauce, a baguette, and a pretty candle. For less than 12 bucks (including the basket and the towel) this makes a nice "Romantic Dinner In A Basket" gift for that special couple you know.
You could also include a cd or dvd, or maybe a bottle of wine if you wanted it to be a larger gift. If the couple has kids, you could include a note offering to watch the kids so they can have some time alone as part of the gift.
Of course I cooked the pasta and sauce for dinner for the boys, so I included a picture of the finished product. I think this would be a nice gift, definitely one I wouldn't mind receiving. This would make an ideal hostess gift, or even a nice gift for your boss. Happy Holidays!