~by Nikki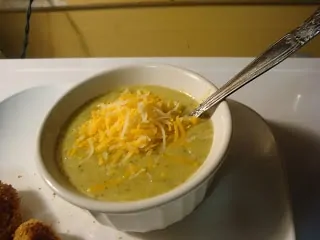 What's that on the side there…we'll talk about that in a minute…
OK…hear me out here! Because I know what you're saying, "Broccoli??? For beginners????"
First and foremost, you should check with YOUR plan to see when you are cleared for cruciferous veggies. I should note that these are cooked to within an inch of their lives and then pureed, so I don't think many will have a problem with this recipe.
That said, for those of you new at this, especially those who had to do the pre-op liquid diet, followed by surgery, followed by clear liquids and now full liquids…I bet you'd give your right arm for anything that is not sweet right now, am I right?
Well have I got a recipe for YOU!
I made this soup especially for my newbie peeps but at the end I give some suggestions for "beefing it up" for my further out peeps AND, as a special added bonus, I give you a family/kid-friendly conversion idea. See how much I love you!!!
Nik's Creamy/Cheesy Broccoli Soup
Ingredients:
1 bag (about 4 cups) broccoli florets
1 can fat-free chicken broth (I used Fit &Active from Aldi)
1 c. water
1 can reduced fat cream of chicken soup (I used Fit &Active also)
1 can cheddar cheese soup (I used Campbells)
1 c. unflavored 0% Greek yogurt
Optional: Unflavored protein, such as BiPro USA or Quest, salt and pepper to taste
Directions:
Boil the broccoli florets in the chicken broth and water until very, very, VERY tender (like you pick it up with a fork and it goes limp).
Add both kinds of soup and Greek yogurt then, with an immersion blender, blend until the whole thing is a thick liquid. If you don't have an immersion blender…get one! (Kidding) You can also do this in batches in a regular blender.
Just before serving, if you are adding the protein powder, add a half a scoop per four ounces of soup.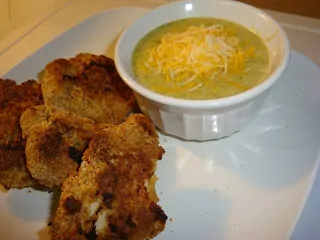 Serving:
Now…while it's true that you can technically buy broccoli & cheese soup, the stats on this version are not bad when you figure them up (no I'm not going to do them for you). To me, the beauty in this version is its versatility. You can use this as a base so that you and your family could technically be eating the same thing for dinner (in various forms). Check it:
For newbies: the above picture is of a 4 oz. ramekin
of the stuff. As you can see…as a three year post-op that is not all I eat! This was actually after I'd made some unplanned noshes at my children's Girl Scouts meeting or else my homemade chicken nuggets would have been accompanied by about a cup of this stuff instead of 4 oz.
Further-outs: you can amp up the heartiness by adding some more cooked broccoli florets to your finished soup. I've also made this with browned, diced ham and with diced chicken breast, both of which are good. Or you cold also go with…
A good, kid and family friendly conversion: the finished soup makes a GREAT base for whole wheat penne pasta. Just cube up and sautee some chicken breast and cook down some onions and peppers. Cook your pasta to al dente and drain, then toss in the chicken and the soup. Add a bit of Parmesan cheese and fresh ground black pepper and they'd swear you slaved all day in the kitchen!