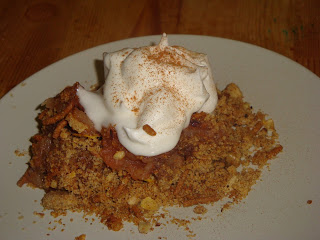 So I wasn't going to post this recipe. Because I thought it would be kinda cruddy to post a WLS friendly dessert two days after Thanksgiving. But here's the deal.
This got a command encore.
So here's how the whole thing went down. I bring my sugar-free, high-fiber dessert to Thanksgiving dinner. I advertised it as sugar-free which, theoretically, meant all non-ops would stay far, far away from it. Ate my dinner (two damn bites and I was down for the count y'all) and took a nice nap. Woke up and…found my dessert pillaged??? The culprits? The men. The very ones who recoil at the words "fiber" and "healthy." Go figure.
With crumble spilling from their mouths they managed to mumble "Grmbledeeburblebop" which can be loosely translated as "you have GOT to make this again." So I did!
I call it "Apple Brown Nikki" because a) it has apples b) it is brown c) I am Nikki and I cooked it and d) I, too, am brown
So consider this one of many Christmas presents.
Apple Brown Nikki
5 – 6 Granny Smith Apples peeled, cored, and sliced
3 tbsp Blue Bonnett Light (or I Can't Believe It's Not Butter Light…I'm not picky)
1 cup + 1 tbsp Splenda
1 tsp cinnamon
1/4 tsp nutmeg
1/2 chopped hazelnuts
1/2 cup chopped walnuts
1 cup Honey Bunches of Oats cereal
1/2 cup Fiber One cereal
Directions:
1. In a pan, melt "butter." Add apples, cup of Splenda, cinnamon, and nutmeg and sautee until apples are considerably softened. Set aside.
2. In a dry pan, toast the hazelnuts and walnuts until browned.
3. In a blender or food processor, combine both types of cereal, remaining Splenda, and nuts until a crumb mixture forms.
4. Place apples in a casserole dish (I used a 9 x 13). Top with crumb mixture and bake at 350 for about 30 minutes or until apple mixture is bubbling up through openings in the crumb AND crumb mixture is brown.
This goes well with fat-free whipped cream (pictured) OR if you are trying to use up all your carb allowance for…um…life…Wal-Mart makes a pretty decent no-sugar added, fat-free vanilla ice cream. I'm just sayin'…