We've been discussing the transition to surgery this week.
We've talked about products you can check out, we've talked about perceptions
and fears. We've even learned to make
nummy S'mores protein pudding
together!
Now I have one more thing to help you prepare for your "bariatric
afterlife."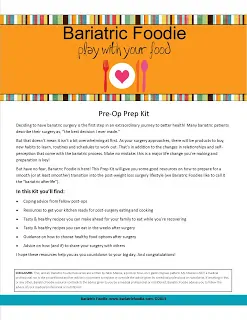 For most of you, your surgeon's office tells you about the
requirements of taking care of your body after surgery. And that's great! But in
talking to both pre-ops and new post-ops I realized many of you need and would like a good resource on how to prepare your life for
bariatric surgery.
This kit answers questions like
How do you get your kitchen in ship shape?
What do you cook
for yourself when you're on purees and liquids?
What do you cook for your
family?
How will your spouse feel?
And how do you keep from having a complete
meltdown from information overload?
Those are just a few of the topics covered in this kit. And
it's not just my voice. Over the past few months I've asked my Foodies for
feedback on everything from helpful websites and products to the decision of
whether or not to tell others about your surgery.

Their thoughts and advice are summarized in this kit, along with…recipes! I
give you recipes for things YOU can eat in the earlier stages post-op and
healthy, family-friendly meals you can cook ahead to take the stress off you
while you're healing (added bonus: these are foods you'll be able to enjoy with
your family one day!).
So click on the image above or visit the
"Shop BF!" page
to
order your copy today! And if you have any questions, you know where to find
me!
ALSO: Check out this awesome collection of free resources available on Bariatric Foodie!