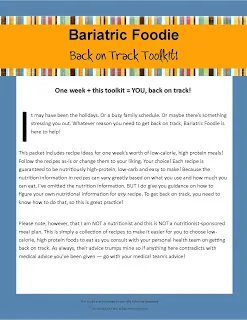 First, things first. Have you checked the Bariatric Foodie Pledge week one pledge list to make sure you are on it (if you did, in fact, pledge)? If not, go do it! I'll wait.
Ok!
I wanted to let you guys know about a brand-spanking new resource: The Bariatric Foodie Back-on-Track Toolkit.
"Great! …But what is it, Nik?"


I hear from a lot of you on a day-to-day basis and one thing I question I get asked quite often is, "What can I do to get back on track with my eating?" Perhaps falling off track was a result of the holidays. Maybe it was stress. Maybe you've become possessed by the soul of a carb-loving ancestor. I don't know!
But for whatever reason, if you've fallen off track, sometimes it can be hard to see your way back. This toolkit pulls together some basic resources to help you.
Please note I am NOT a nutritionist and this is NOT a nutritionist-sponsored plan (hence, the affordable price). But here is what this toolkit IS:
A PDF 16-page e-book download that comes instantly to your email inbox (Adobe Acrobat reader required)
A week's worth of protein-forward, reduced fat, no-added sugar recipes for breakfast, lunch, dinner and dessert on printable Bariatric Foodie recipe cards
A complete shopping list for the recipes
Tips on where to start when you want to get back on track
A printable food/water/vitamin log (for those Foodies who find the online thing a tad overwhelming)
Tips on what to do to stay on track after the week is over!
Added bonus: you know where the author is…feel free to email me directly at bariatricfoodie@yahoo.com with any questions about getting back on track OR about the contents of this kit!
Cost: $5.00 (click the button below to purchase)
I designed this guide to be a short, easy-to-use reference for folks looking to regain control of their eating life. I'll be creating even more of these short resources (next up, "The Bariatric Foodie Pre-op Prep Kit!") to help you through various parts of your "bariatric afterlife." If you have a suggestion for a toolkit, please let me know!
Each toolkit I develop will be $5 or less and the proceeds will go toward the development of the SECOND Bariatric Foodie recipe book (subject of which is forthcoming!). This toolkit and any others can be found on the "
Shop BF!
" page.
I hope this resource helps those of you who are struggling.