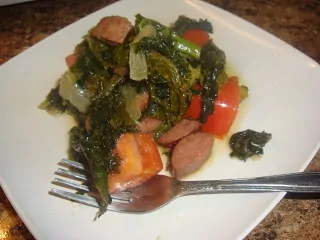 Have I ever conveyed my absolute love and adoration of the farmer's market?
Ohhhhh it's a wonderful place! When I first got started on my journey to eating healthier I knew approximately nothing about preparing vegetables in any kind of healthful manner. Besides that, I had about, maybe, 7 or 8 veggies in my repertoire. I was a sad, sad creature.
But who could blame me? New foods can be scary! Especially when you can't even figure out how to cut the dang food much less how to cook and eat it! But then a good friend gave me a tip. "Go to the farmer's market. The farmers will often tell you what a veggie is and how to cook it."
Now…I'm going to tell you the truth. I was scared to do this too! I mean what kind of dunce doesn't know about veggies? Or at least that's the stinkin' thinkin' I allowed to keep me from the farmers market for far too long! One day I just decided…ok I'm going to do this. Convinced the farmers would laugh in my face.
I went, approached a table, saw a veggie I did not know (by the way, it was Swiss Chard) and I asked about it. And a miraculous thing happened. The farmer smiled! And I smiled back! Then the farmer proceeded to give me a PhD in Swiss Chard! It was awesome. Now I'm not afraid to ask about new foods at the frmers market and I go into the whole thing with a sense of adventure.
Which brings me to the day when I saw a bag of spicy mustard greens. I like spicy stuff so I decided to give it a whirl. Now…I have experience with collard greens and kale but not mustard greens. So my first step was to taste one: raw and straight up.
It lives up to its name. It is spicy and tastes like mustard. And that's all I have to say about that.
From there, I went about finding a recipe I could use to cook it. This recipe seemed to fit the bill and it is what I used!
Verdict: YUMMY! The Cajun flavor came through and man! My body must have been missing green, leafy veggies because my pouch actually sighed in happiness. Word to the wise: if you try any variation of this recipe, add the tomatoes dead last. The freshness and firmness of the tomato will play nicely against the salty/spice of the sausage. The recipe called for cherry tomatoes but I had romas so that's what I used. When they are in season, though, I'd even advocate for heirlooms for a bit of sweetness.
Some ideas on making this dish a bit more WLS-friendly:
While the Andouille sausage was wonderful, I could totally see this going with some low-fat turkey smoked sausage and being fine, especially since you have to add Cajun spices
If you've never worked with kale or mustard greens before, remove the big stem. It is not pouch-friendly.
If you aren't yet cleared for such a hearty green, I think baby spinach would work well, it's just tricky to make it "al dente" if you will. Spinach gets mushy fast. But luckily it also absorbs flavor really fast so I don't think the preparation would change so much as you just would not simmer quite as long.
Not related to health but a random thought: I should have known this but leafy greens of any kind produce a LOT of liquid, especially when you add salt (which draws the liquid out of foods). Although the instructions don't say to do this, unless you want soup, take the lid off the pot the last 10 minutes or so.
I did not feed this to the divas. They were in the mood for Zatarain's jambalaya (if you ever are…here is a much more
"us-friendly" recipe
) and as I have said many times, rice and I don't get down like that. But it was a quick and easy dinner for them and this was a quick and easy dinner for me and we all managed to have Cajun food together. Winning, right?