Whaddya know! A two-fer!
People often ask me how much I can eat. Mostly because I always say I have the "Wonder Pouch." Not really though. I just know what healthy things I can eat a lot of and I tend to gravitate toward those foods. Because I like to eat. A lot.
So anyway, this was my lunch today. It's fast becoming a favorite lunch.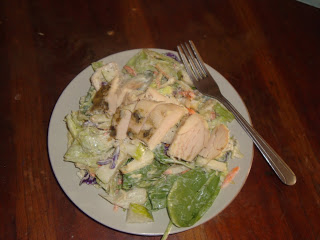 I can eat this. All of it. And I am not ashamed! As it was explained to me, the point is to be able to eat a reasonable amount of food eventually. This is a salad plate and on it is the following: iceberg lettuce, red cabbage, carrots, baby spinach, and half a diced bartlett pear tossed with light caesar dressing, fresh grated parmesan, and coarsely ground black pepper with 2.5 oz. of my pesto rubbed chicken on top (white meat). I wish I could teleport the taste to your tastebuds. So. Damn. YUMMY!!!
So anyway…this is a typical meal for me. Take from that what you will.
I'll leave off this post-fest with an announcement. Something is big is coming to the blog videos. And I mean big. Really big. Not this week coming up but hopefully the next week. That's about all I can say right now, but check back with me!