~~posted by Jen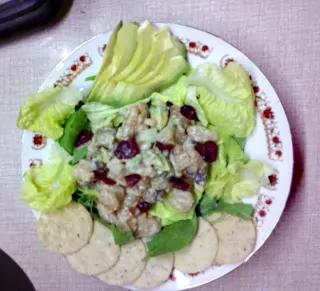 Dee's Thai Shrimp
Welcome to our very first "Recipe Remix" post. A recipe remix is exactly what it sounds like, we take an ingredient (in the case of this recipe it's a sauce) or dish from a previous recipe and remix it into a whole different dish!
This will help many of you who are faced with tons of leftovers and no idea what to do with them. Nik and I both abhor wasting food, there are just too many hungry people in the world. That's why we've both become so adept at "re-purposing" leftovers.
My Momma, Lord rest her soul, was always very good at stretching a food dollar. Thankfully, I inherited that trait from her. She would come home from work and be amazed that I had created a meal out of the few things we had on hand in the fridge and pantry.
In the early years of my first marriage, this skill served me well. Even though Brian and I both worked full time, once we paid our bills every week we had $14 left to feed us for a whole week. I am not kidding. But if you asked him today, over 10 years since our divorce, he would tell you we ate well on $14 a week.
S'anyway, we always encourage y'all to "Play With Your Food, People!" and tell us what creative things you come up with when you revamp one of our recipes. With that in mind, we're proud to announce that our very first Recipe Remix comes from our good friend Dee (Deedles on OH) out in Texas.
Dee used the leftover sauce from Nik's Thai Waldorf Chicken Salad and made this scrumptious Thai Shrimp!
In her words, here's how she did it:
"Remember the left over peanut sauce I had from the Thai chicken salad? Tonight I used it on some pan grilled shrimp. It was delicious!
I started with….
3oz of diced shrimp that had been sauteed in a pan with Ancho seasoning and a drizzle of honey.
1 Tb pine nuts
1/4 of an avocado, part diced small in the salad, the rest sliced on the side
2 Tb Craisins
3-4 Tb Peanut Thai sauce (leftover from Waldorf Salad).
1 tsp sesame seeds
Mix shrimp, pine nuts, craisins and 1/4 of the avocado together and slowly add peanut sauce, final amount used is personal preference.
Serve on a bed of Butter Lettuce and Baby Spinach, sprinkle sesame seeds on top. Remaining avocado and Nut Thins crackers on the side."
If we can ever convince her to move East, I swear Dee is going to be our official food photographer! She makes our food look SO much yummier than we do sometimes! Thanks for sharing, Dee!
Now you, yes you, sitting there staring at the screen and drooling? Get up, go to the kitchen, and Play With Your Food! When you're done, send us a pic!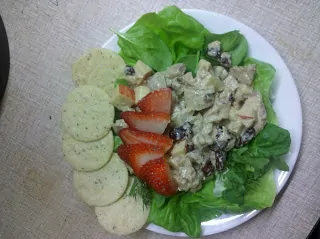 Dee's Version of Nik's Chicken Thai Waldorf Salad