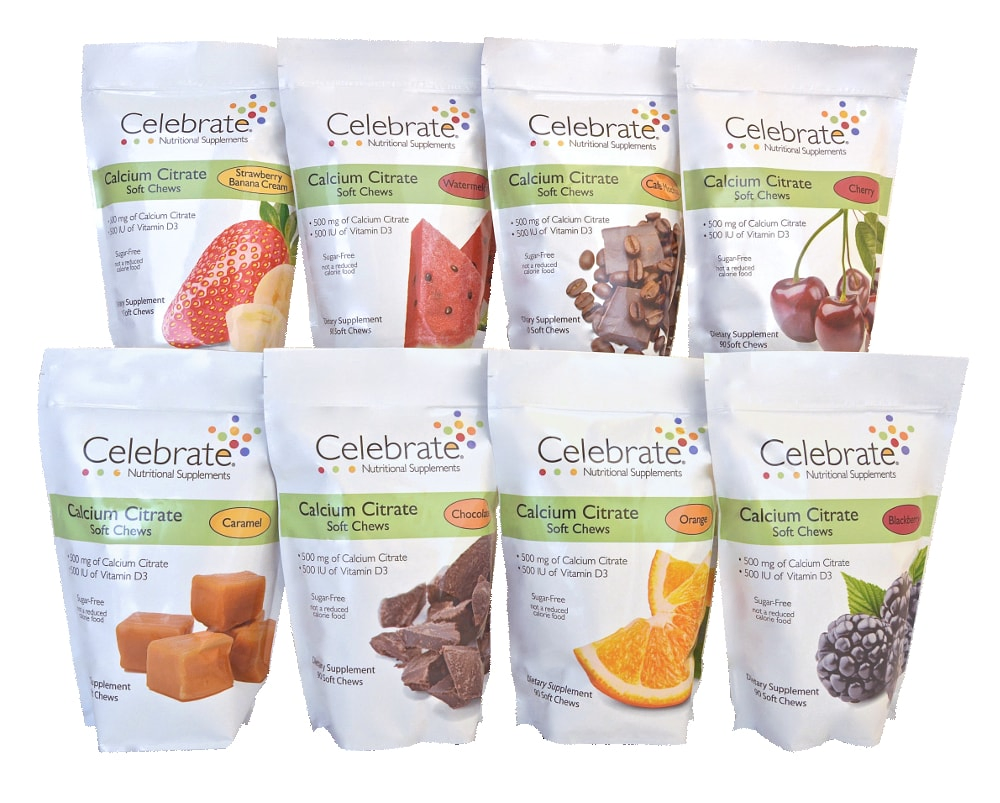 Celebrate Vitamins is a sponsor of the 2019 Bariatric Foodie Pledge! In celebration of the Pledge, they are offering a special discount! Take 15% off your purchase with code Pledge19 through March 2!
Oh, calcium! You are the supplement I most forget! Can Celebrate Calcium Citrate Soft Chews be the answer?
First off, don't even ask me why I forget my calcium so often. I remember my daily multi-vitamins. I remember my iron. I remember my B12 (unless I forget it). And, for the most part, I remember calcium. I just sometimes don't remember to take all my calcium.
Which is why I'm all about options, Foodies. I've found that if I can mix up how I take my calcium, I'm likely to get more of my daily doses in. So in my cabinet you'll find chewable tablets, drink mixes with calcium, a powder supplement that I down like a pixie stick…and now these.
So let's talk about these.
About Celebrate Vitamins
Celebrate Vitamins is a long-standing bariatric vitamin and supplement company that carries a CRAP TON of options to suit all bariatric needs. Not a chewable person? They got swallow pills. Not a pill person? They got drink mixes. Having trouble getting your protein in with your vitamins? They have vitamin protein powder. It's like they have post-ops working there or something. 😉
About Calcium Citrate Soft Chews
So this is not a completely new product. Know how I know? Because I've been stealing them from their exhibit table at the Obesity Action Coalition "Your Weight Matters Convention" for years! But this year they did make some "edits" to their formula. To explain, I'm going to just use what's on their website:
"Celebrate Calcium Soft Chews have been completely reformulated! Available in 8 AMAZING flavors that include Watermelon, Cherry, Strawberry-Banana, Café Mocha, Chocolate, Caramel, Orange, and Blackberry! All of our flavors feature our NEW Ultra-smooth texture formulation that has absolutely ZERO calcium grit! In addition to tasting great, these calcium chews pack a whopping 500 mg of Calcium (as calsium citrate) in each chew! This is the MOST calcium found in a soft chew."
So all that sounds pretty amazing, right? Great flavor? No calcium grit?
We shall see. Read on, dear Foodie. Read on…
Stats & All That
Before we get to the taste (yes, I know I am a tease!) let's just talk a bit about what this how this product presents, what it looks like, and the stats on it.
The chews come in bags of either 90 or 270-count (we'll talk about price in a sec). They are individually wrapped and look like this.
And here are a few (left to right these are caramel, Cafe Mocha, and Watermelon).
To me they look like Starbursts! Which, to be fair, greatly improves the chances of my compliance.
Since there are several different flavors, I'll point you to their website for the full stats but the important info is that each chew is 15 calories, has 3g of carbs, and no sugar. They are mainly sweetened with a combination of sorbitol (a sugar alcohol), and sucralose, the base ingredient of Splenda. Each chew has 500mg of calcium and 500 IU of vitamin D.
As I say in all my vitamin product reviews, PLEASE be sure to check all vitamin products against the nutrition recommendations of the American Society for Metabolic & Bariatric Surgery (ASMBS), which includes vitamin recommendations. Make sure all your vitamins comply!
The Taste
Ok, ok, ok ! Let's do this. There were several flavors and, as is my custom, I wrote down my very first impression of each.
Watermelon: "Starbust! Taste the rainbowwww…" (Translation: Tasted like Skittles.)
Cherry: "Oo! That's got a little punch…" (Translation: Slightly tart, but good)
Strawberry-Banana: Both flavors came through but I'm not big as big on the Strawberry-Banana combo as everyone else is, so meh. But the flavors were true, so there's that!
Café Mocha: (pre-taste thought) "I don't know about a coffee flavored vitamin chew…" (2nd pre-taste – after opening the wrapper – thought) "Whoa! This smells like coffee!" (post-taste thought) "Yep…this is gonna be my favorite. I wonder how bad it would be to have another…no!"
Chocolate: Sort of like a Rollo. (Remember those?)
Caramel: True caramel flavor. Oddly, I'm also not a huge caramel person. (I know I'm weird, thanks for noticing.) Again, flavor was true just not my thing.
Orange: "Skittles again! Yay!"
Blackberry: "I wish actual blackberries tasted like this…"
Overall the flavors are true. They are sweet but not obnoxiously sweet. They are chewy, which is good for me. Sometimes my mouth just wants to chew things. I'd rather it chew a low-calorie vitamin that I need than…say…Doritos. Your mileage may vary! Also, true to their promise, there was no calcium grit. Thank youuuuuu, Celebrate!
The only critical thing I can think of with this is to be careful if you are a candy fiend. These read like candy in the brain so it's easy to think you could (or should) have more than one. Heed your vitamin dosages!!!
But the good news is that if you find you have trouble controlling yourself with these, Celebrate has a plethora of other calcium options that might work better.
Cost & Value
Like I said above, these come in bags of 90-count (which should generally be regarded as a full 30-day supply) and 270-count (90-day supply).
90-count = $31.95 (approximately $0.35/chew or $1.05/day)
270-count = $91.95 (approximately $0.34/chew or $1.02/day)
So far as value, let me say this. The one thing I've learned from working with Celebrate for years and years is that they are all about quality. And I'm not talking about flavor (although that's pretty good too). They really care about the ASMBS guidelines. They care if you get enough nutrients in your vitamins. And from what I've seen, they simply refuse to put out vitamins that don't comply.
In short: I trust Celebrate Vitamins implicitly! I point that out because to me that factors into the value of this product. There is value in knowing something is of good quality and will meet your needs.
Would I buy it?
Heck yes! Like I said before, I keep a plethora of various vitamin brands and products on hand to keep the variety in my vitamin life. Celebrate Vitamins has always been a part of my collection. (Bribe me and I may tell you the others. Kidding. Unless you're gonna do it! 😉 I admit I do scarf a lot of their vitamins at conventions and things but when those run out, I always order more!
I think for the price point, the taste, and the knowledge that you're getting a good quality bariatric vitamin, I think it's well worth the investment.
To learn more about Celebrate's Calcium Citrate Soft Chews, visit their website. And tell them Nik sent ya!