This product review was sponsored by BariatricPal. All opinions are my own. 
Aw yeah! BariatricPal has thrown its hat into the ring with its very own soft calcium chew! I'm so excited.
Mostly because every other BariatricPal brand product I have tried so far has been legit. Still, I don't want to put the cart before the horse, Foodies. We have to put this product through the paces. You ready? Here we go!
Oh, wait! One more thing. BariatricPal has offered us a discount! Take 15% off with code BARIFOODIE119 (Offer does not apply to recurring orders. Expires 12/31.) So be sure to check that out after you read my review.
BariatricPal Soft Calcium Chews: What the hell are they?
This is not BariatricPal's first time at the vitamin rodeo. In 2017, they released BariatricPal Protein One, which is a combined protein powder and fiber supplement with 28 vitamins and minerals. Then, in 2018, they came out with Multivitamin One (review forthcoming!), a once daily multivitamin. So if we are to judge BariatricPal from its product offerings so far, they seem to be trying to make it easier to get your basic bariatric requirements. I'm all for that!
These calcium soft chews seem to be the next natural step. Multivitamin One has iron in it, which means you have to take your calcium separately. Now keep in mind the ASMBS recommends a daily dose of calcium citrate for each of the surgery types (amounts vary, but you can find an easy breakdown of the ASMBS guidelines here). Along with calcium citrate, bariatric patients are advised to take vitamin D3, which aids in the absorption of calcium. BariatricPal Calcium Soft Chews also contain Vitamin D3. We'll get into the taste and texture in a moment, but the calcium soft chews are an alternative to what can often be big, bulky chewables.
Now that we are all familiarized with what these things are, let's delve a little deeper.
The Nutrition
In addition to calcium and vitamin D, BariatricPal Calcium Soft Chews contain some calories and carbs. Depending on how many you take per day, you'll need to factor those into your food plan. Let's drill down.
Each chew contains:
15 calories
4g carbohydrates
0g total sugars
2g sugar alcohols
20 mcg Vitamin D (NOTE: We are used to seeing Vitamin D in IU, but pretty soon it will be presented in mcg on most packaging so let's take this as an opportunity to get used to it, shall we? Anyhoo… 23 mcg Vitamin D = 800 IU)
500 mg Calcium Citrate
10 mg sodium
250 mg Bacillus coagulans (a probiotic)
The chews contain two types of sweetener: maltitol syrup (a sugar alcohol) and stevia extract.
The amount of calcium in the chew is in line with most calcium supplements on the market and just about every other calcium soft chew. As I said before, it has both calcium citrate and Vitamin D3. So far, so good!
(For more information on the chews, check them out on the BariatricPal website.)
The Aesthetics
Ok, allow the marketing geek in me to have a little fun. I really do like the BariatricPal product branding. It's fun, cheery and, most importantly for marketing purposes, cohesive. This fits right on in with the other BariatricPal products I mentioned above.
When you open the bag, you immediately smell the caramel. Like…immediately. It's such a pleasant smell, too. If you ever aren't feeling great about life, light a caramel scented candle. Trust me. You'll be sorted out in no time!
Seriously, though. The inside of the bag smelled heavenly. A peek inside reveals uniform little rectangles of gold-wrapped calcium chews. All pretty standard.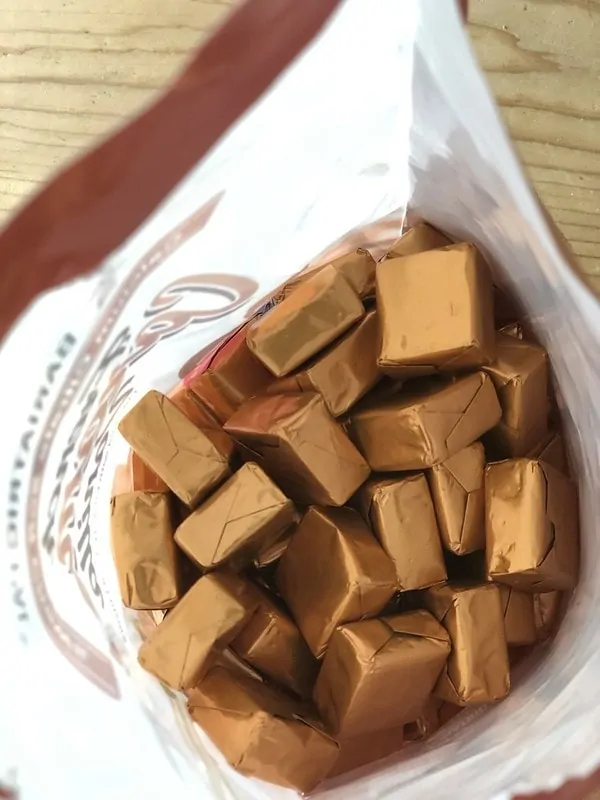 The chew is about the size of every other chew I have tasted and it passed my squeeze test. (I squeeze a chew. If it yields a little, that's good. That means it's going to be a nice, chewy treat. If it pinches flat, that may not be so good because it's probably going to get stuck between my teeth pretty fast. If it doesn't yield at all…jawbreaker. Run, Forrest!)
The taste and mouthfeel
I've tasted my fair share of calcium chews. And either they are great or they have one very distinct problem: extreme grittiness. Now I say extreme because most calcium chews are gritty to a certain degree. That's just how it is with calcium as an element. But extreme gritty calcium chews are like chewing gravel. Not fun!
As for taste, it is well documented that caramel is not my absolute favorite thing in the world. I don't hate it but if given a choice between caramel and chocolate, I'm always going to choose chocolate, ya feel me? My main thing with caramel is that it can trip wayyyyyyy over my personal sweetness threshold. Some companies do salted caramel to offset that (and some have even then managed to be too sweet for my tastes).
So I was on the lookout for those two things: extreme grittiness and extreme sweetness.
I'm happy to report neither was a problem. The chew was, in fact, nice and chewy (and it didn't get stuck in my teeth…the squeeze test wins again!). It had a tiny bit of grit but, like I said, that's pretty normal. Nowhere near gravel level. And it wasn't obnoxiously sweet. It was a nice, buttery, caramel flavor. Exactly what you'd expect.
What I was missing a little was the French Vanilla part. SIDE NOTE: What the heck is French Vanilla anyways, and how does it differ from…vanilla-vanilla? Hold please while I consult the Google.
(#InsertElevatorMusic)
Ok, I'm back.
According to several sources, the term French Vanilla is most applicable to ice cream because French Vanilla ice cream has egg yolks in the base of the ice cream while regular vanilla does not. Huh. I thought it was deeper than that.
So basically, in all other applications besides ice cream, the "French" is used to dress up the vanilla because vanilla is…well, vanilla. Another Foodie mystery solved! Moving on…
Overall, I liked the chew. It had a pleasant flavor, I didn't pick up on any aftertaste, and even though it is sweetened with stevia (which I usually detest) I didn't pick that up in the flavor, so that's a win!
The Cost
On the BariatricPal website, these sell in both 90-count and 270-count bags (a 30-day supply and 90-day supply, respectively, if you were to use this product as your sole calcium supplement). So let's do some breakdowns:
The 90-count bag is $31.99 which comes out to $0.35/chew
The 270-count bag is $94.99 which comes out to  $0.35/chew
I should point out that there are several ways to shave down the price on that a little. The BariatricPal store offers subscribe and save for a lower price ($28.79 or $85.49 respectively, both of which come out to $0.31/chew). Also, I'm proud to say that the Foodie Nation has a discount code! Use code BARIFOODIE119 for 15% off. Please note that does not apply to recurring orders and cannot be combined with other coupons. (In case you are wondering, NO I don't get any kickback from that code but, yes, I do sort of wish I did! But I love you, Foodies. So whatevs…)
The Verdict
If you've been reading Bariatric Foodie for any length of time you know I personally believe in keeping a diverse…portfolio of vitamins around. I have vitamins in nearly every form you can have them: swallow pills, hard chewables, soft chews, liquid. I also believe in flavor diversity. So I would definitely, definitely, definitely add this offering to the bunch. It's tasty, not too sweet, and has the correct amount of nutrients. I could see myself taking these after dinner when I want a sweet bite of some sort.
For me, the bag would last longer than 30 or 90 days because I probably would not use it as my sole calcium supplement but, again, in my world, variety is the spice of life! It's also what makes me look forward to taking my vitamins.
But enough about what I think. What say you? Be sure to check out the BariatricPal French Vanilla Caramel Calcium Soft Chews and comment below if you try them (or if you've already tried them, please share!). I'd love to know what you think.
If you are hankering to give them a try, remember we have a discount code! Take 15% off with code BARIFOODIE19 by 12/31 (Offer does not apply to recurring orders.) Hit that button below to go check out the store!