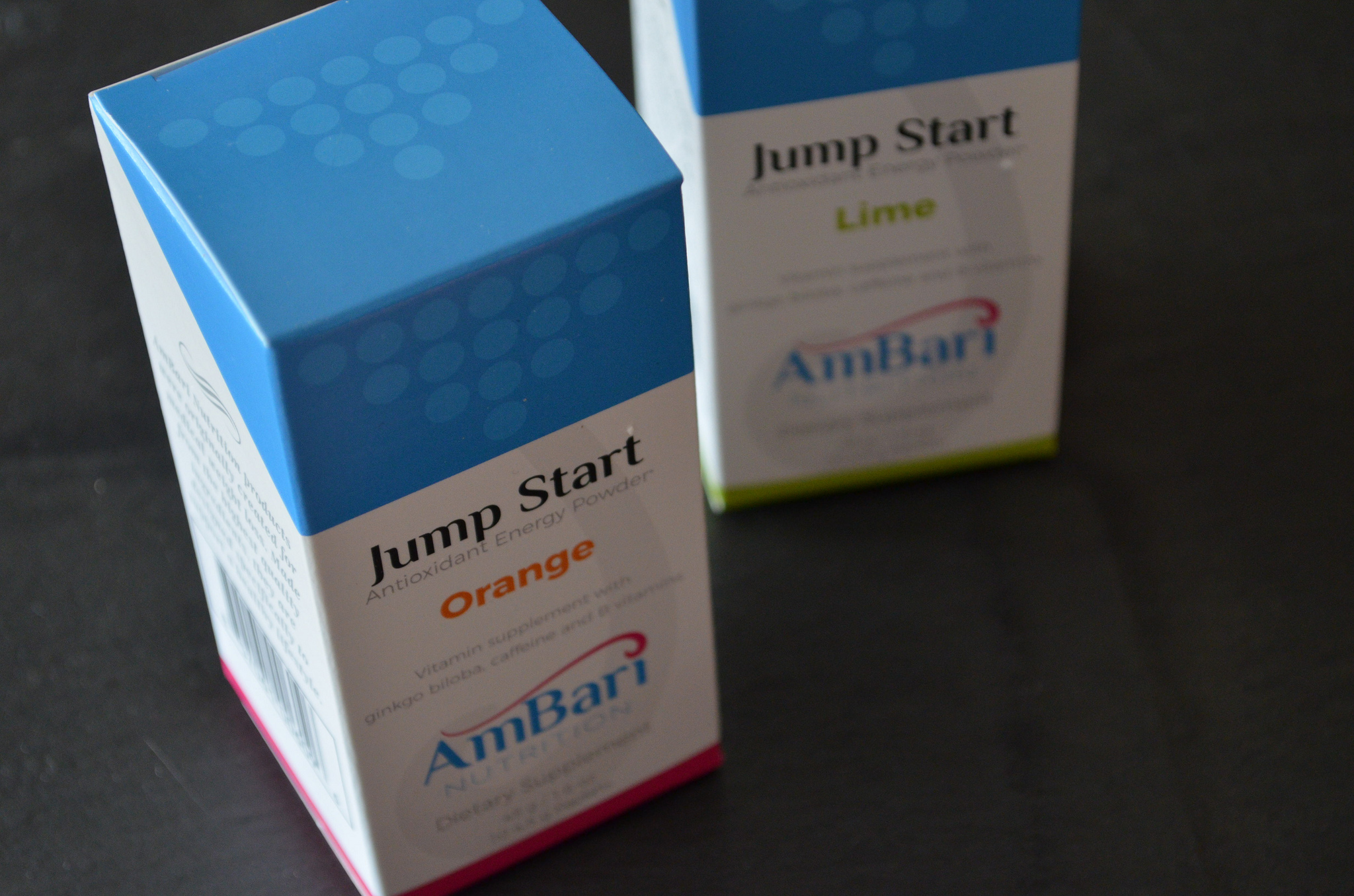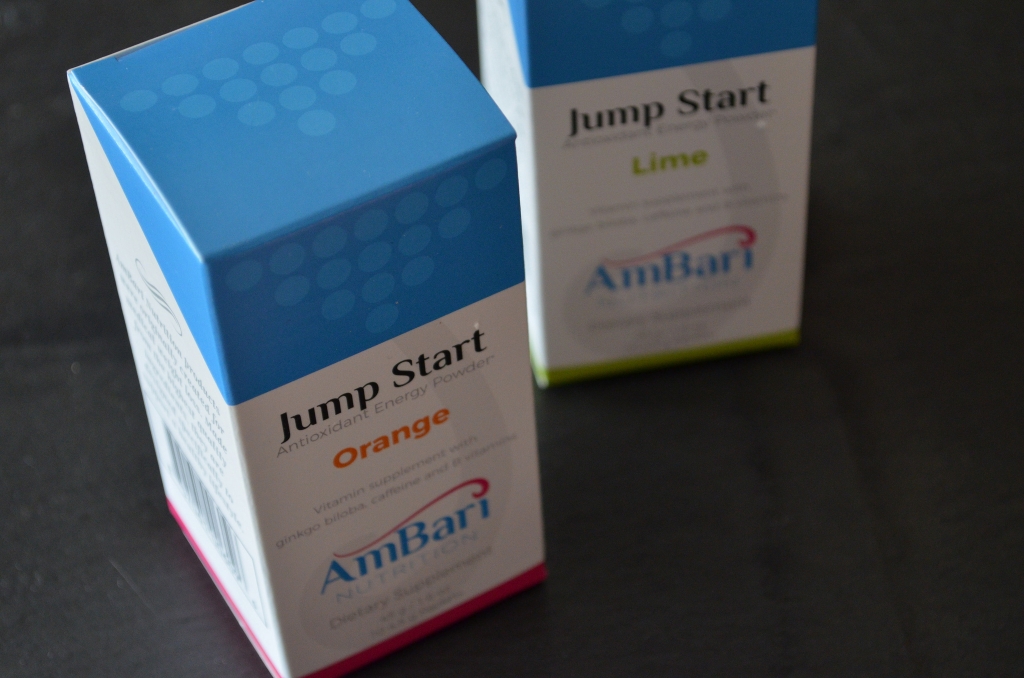 Don't scratch your head. You're not seeing things.
Yes, I did review AmBari Jumpstart Energy Drink last year. But that was the Berry flavor, and this is the lime and orange flavor!
Now if you caught that review, you might remember a few things:
That I really LOVED the taste of the drink mix, but
I wasn't really sure if it worked because I boasted that I am "naturally high energy"
Funny how life can knock you off your horse when you say things like that. Because this year? Nik has found out she's anemic and while I am told I'm actually pretty high energy for my pretty low iron levels, I did feel the difference prior to being diagnosed with anemia. I'm napping more and if I sit still too long it takes a lot to get me moving again!
So all this is to say that I am in a better position this year to speak on the energy benefits of this product. But first…
AmBari Jumpstart Energy Drink: What the hell is it?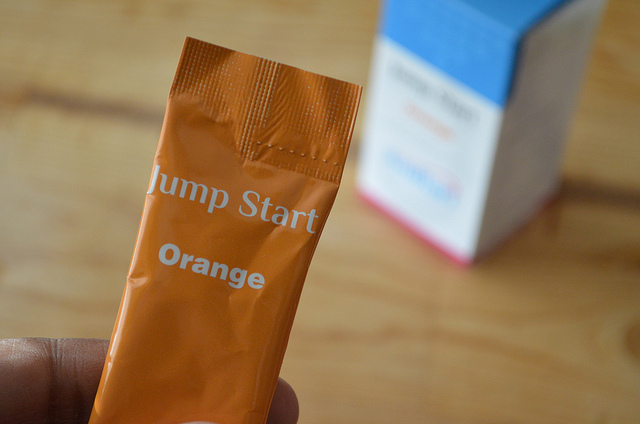 Just in case you weren't around last year OR you just, um, have a life, let me give you the rundown on what this product even is.
Here's what the AmBari website says:
This is a flavored thermogenic antioxidant energy drink that will take your tastebuds on a sweet and tangy citrus ride! This refreshing drink contains ginkgo biloba, B vitamins, and caffeine (comparable to drinking half a cup of coffee) to give you that extra boost to start your day the right way! Enjoy one in the morning and one after lunch to help keep you motivated the whole day through.
So that's a pretty bold promise. Will this product follow-through? We shall see. In the meantime, what the hell is in it? Let's examine.
Each packet of mix has 15 calories, 4g of carbohydrates, 1g sugars, 0g protein.
As far as nutrients go, it has quite a few, including vitamins A, C, E, calcium, thiamine, riboflavin, niacin, b6 and b12. You can see the full nutrition panel here to check it all out!
Welp…I feel more educated, how about you?
Let's keep moving forward.
The Aesthetics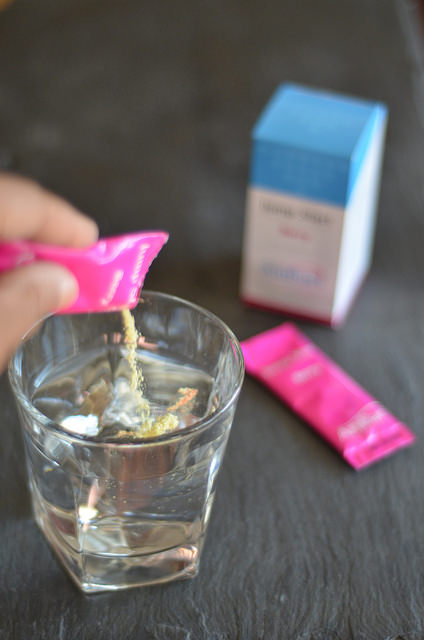 (In the interest of full disclosure, this is the Berry flavor. My camera ate the shots I took of the Orange and Lime but I'll retake and get those up soon! But it mixes exactly the same so, for now, this works. Carry on…)
This was the easiest thing to assess. It's a powder. You dump it in water and stir. That's really all there is to it. Nothing fancy or complicated.
I will say that in powder form they both smelled like popsicle flavors, which I kinda dug. I remember the Berry flavor was that way as well.
The both mixed very easily in cold water with just a spoon. Some powder did settle to the bottom.
The Taste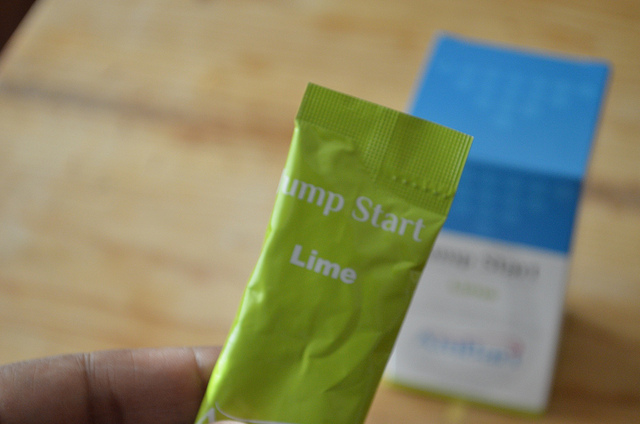 Just like the smell, the taste of these was just like my childhood popsicles! You know, the ones in the long plastic tube that you had to beg your mom to cut open, else you had to chew off the end, by which time the whole thing melted. Yeah. That one.
I really loved the flavor of the Berry mix last year, and the orange and the lime flavors did not disappoint. They were sweet but not offensively so (at least not to me) and tangy. Very refreshing!
"But did it work though?"
Ok here's where I'm going to ask you to do two conflicting things: trust me, and take what I say with a grain of salt.
Let me first tell you how I tested these out. First, I spent a few days journaling my activity. I wrote down when I woke up, how much sleep I got (which I know thanks to my FitBit), what I did througout the day, how I felt at very specific times of the day, when I went to bed, and, finally, I rated how tired/energetic I felt when I went to bed. I also logged any major bursts of activity and their corresponding times.
And that, Foodies, is as close to scientific method as I care to get!
After I had that baseline, I then began to use the product as instructed on the box. With the exception of the first day I used it, I took one dose in the morning, and another in the evening. I did this 6 times of the course of two weeks. I'll explain why that schedule in a sec.
So…the first day I wasn't really expecting much. And I didn't really notice a big difference until…I went to the gym that day. I go to the gym late at night. (Like seriously…I go at like 10 p.m.) My gym is a five minute walk from my house and it's pretty empty at night so I have the run of the place. It has a movie theater with cardio machines and often I do both my cardio and strength training workouts in there because it's empty at that time of night.
Anyway, usually when I go to the gym it takes me a little while to get into "my burn." (Fitness enthusiasts know what I mean.) I'm a bit sluggish at first, especially since it's late and at that point I'd been up for about 16 hours!
But this time at the gym, I went hard. Like hard-hard. Whereas I usually walk fast on the treadmill, this night I felt the urge to run. Whereas I would go 65 to 70 rpm on the elliptical, I went about 90. Whereas I usually work out for 40 minutes, that night 90 went by and I barely noticed.
Now. You may be thinking to yourself, "Eh. It's probably the placebo effect."
Except. On that first day, I only took it in the morning. I forgot the evening dose. In fact, I forgot I had taken the stuff at all until I was back at home, getting a glass of water, and noticed the box on my island.
So while it could be placebo effect, I doubt it. Still, I wanted to retry. But I wanted to wait until I felt a little more like I did before I took it the first time. Turns out, it took actually took two days to go back to "normal." Even the day after I took the energy mix, I was more energetic than usual and my workout was more intense than usual (although, at this point, to be fair, it totally could have been placebo).
When I took it again, I experienced the same. Not much of a difference during the day, but my nighttime workouts were beast mode! I was actually kind of loving it.
During this time, I kept the same kind of journal of my waking times/sleep times and activities. I didn't notice much of a change in my sleep schedule (thankfully, I rarely have problems falling asleep!) but I did notice I did a lot more in general on the days I took the energy mix. I'm talking multiple walks of more than two miles each during the course of a day, plus going to the gym, plus working (which involves quite a bit of walking), plus my daily routine of doing 7 flights of steps with a fellow health-minded co-worker, plus our additional daily habit of doing a 90 second plank each day, plus going home to walk my dog and face, "So…what's for dinner, mom?"

Yes. All that. With zero problems.
So after about two weeks, I decided to see what happens if I totally stopped drinking the stuff. Would I get some sort of weird energy crash. Would I become a werewolf?!? (Kidding but you can probably relate to irrational fears you have about products you're trying, right?)
Anyway, I stopped taking it altogether for a week and…nothing. I mean, except that I went back to how I felt before taking it. No crash. No werewolf. Just Nikki in regular mode.
So take that for what it's worth but that was my experience.
The Cost
I'm not exactly sure why, but the Lime and Orange versions of the Jump Start Energy Mix cost a bit more than the Berry that I tried last year. Whereas the Berry was $11.95 for 10 servings, both the Lime and Orange are listed at $14.95. I think the Berry is a sale price, though, so if you are a berry flavor type person, be sure to check out my review from last year!
When you're talking about energy drinks you tend to want to talk about value, or, "is it worth it?"
That's a personal decision, but I will say that I did genuinely seem to get an energy boost out of this drink that helped me increase the intensity of my workouts. Insofar as there isn't anything harmful for me in this mix (I checked with my doctor and you should too!), I totally would keep a box or two around for those days when I need to muscle through a hard day and get a workout done.
Be sure to check out this product, and many other great bariatric products, on the AmBari Nutrition website!