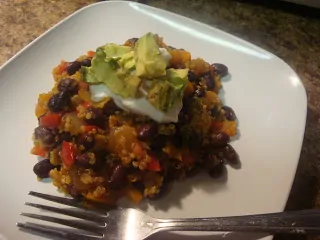 You all might remember that this year I vowed that my
Meatless Fridays this year would NOT be another litany of the "Three T's":
Tuna, Tilapia and
TVP
. I've been branching out!
Like most of my food, this dish has a funny story to it.
Last Friday I pick the divas up from aftercare. As per usual, they were hungry.
They were also angry. They feel resentful because the snacks offered at
aftercare all had meat which meant they could not partake (to be fair, I TRIED
to send them with an alternative snack and they rebuffed). Now, understand that
my kids are no different than anybody else's. They KNOW what's healthy…but that
does NOT mean they always want to eat what's healthy.
This was such a day. They wanted to stop for cheese pizza for dinner. I said
no. Poutiness ensued. The youngest in particular has become very adept at that
brand of whining that grates on my last little nerve so bad! She just keeps
needling and needling until…well, parents you know what happens. You tend to
explode, yell something and now everyone is stressed.
But instead of doing that, I sort of let her stew in the
back seat. By the time she gets home she has proclaimed there is nothing to eat
in the house and she guesses she will starve! (Note to La Petite Diva: when
your mother works days for an organization that actually DOES reach out to
hungry people around the world, the absence of cheese pizza will garner
little sympathy.)
In response, I went into the kitchen and whipped this up. I'll
tell you about her response in a moment.
Nik's Spicy (or not) Quinoa and Beans
(Makes, I'd say, enough for 3 non-ops with a healthy appetite + 1 post-op)
For what it's worth, this recipe, in my opinion, is probably best suited for folks 6+ months out.

Ingredients:

2 tsp extra virgin olive oil
1 small onion, diced
1 red pepper, diced
1 orange pepper, diced
1 clove garlic, minced
3 heaping tablespoons of Sofrito (if you don't know what
that is, I talk about it in
this video
)
¼ tsp each:
ground chipotle powder (omit if you don't want a
spicy dish, using chili powder instead)
ground cumin (keep in even if you don't want the
spicy version)
ground coriander (keep in even if you don't want
the spicy version)

1 c. uncooked quinoa
3 c. water
1 can (I used 15 oz.) black beans, drained and rinsed
1 can (I used 10 oz.) tomatoes & chiles (if you want the un-spicy
version, use Mexican style diced tomatoes without chiles)

Optional:
Greek yogurt
Avocado

Directions:
It all started with this GORGEOUS plate of chopped veggies.
In a pan, heat up oil then add veggies and sautee until soft.
Add garlic then give it a good stir and let it go another two minutes or so.

Mix in Sofrito and spices, except chipotle powder, and mix well (if you are using chili powder instead it is fine to put it in at this point)

Add quinoa and chipotle powder together and give it a stir. Quickly add water (trust that you do NOT want chipotle vapor in your face so don't dilly dally!)

Cover and reduce heat to medium and simmer about 20 minutes.

When the quinoa is done (and if you read Monday's post you'll know when that is), give the whole thing a good stir and then add your drained beans and tomatoes & chiles (or tomatoes if you are not using chiles).
Allow it to simmer about five minutes more and then…it's done!
So…back to the kid. We get home. I whip this up (it took
MAYBE 30 minutes) and call the child to get some. She insists on taste testing
first. I give her a spoonful and she goes, in a voice indicating she is clearly
doing ME a favor, "I guess I will have some." With that she takes her bowl to
her room (where she has been sent for being a grade A nuisance!).
Twenty minutes later…in a much better mood…child creeps BACK
downstairs and says, "Mom? Can I have some more please?"
And there you have it folks! This dish is not only yummy but
transformative, turning brats…er, unwieldy children into manageable creatures!!!