~by Nikki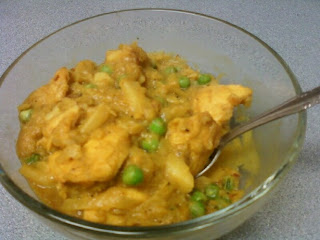 God bless me for thinking I could eat all of that. About five bites in my pouch showed me who was boss!
As always, our recipes come with a story. The difference being this time I am going to ATTEMPT brevity.
So, long story short: I made a pot of cabbage in homemade chicken broth. And for days it sat, virtually untouched. Not wanting to waste, I implored my children, "eat the cabbage!" to which they replied, "it isn't spicy enough!"
Fast forward to Sunday. A long succession of errands made a lengthy Sunday dinner prep impossible. So I looked to the cabbage and thought about what I could do to make it better. It was truly a "little of this, a bit of that" moment in the kitchen. But after all was said and done, and the divas had devoured nearly the entire pot, I said to myself "self? This recipe is a winner!"
(See, only ¼ of the page taken up and the story is done!)
Nik's Curried Cabbage and Chicken "Stuff"
(here's how to make it from scratch)
Ingredients:
1 head of green cabbage, chopped
4 c. chicken broth (either homemade or store-bought low-sodium variety)
Salt and pepper
1 lb. chicken breast meat, cubed and cooked (I used Fit & Active Grilled Chicken Bites)
3 medium red potatoes, diced
1 small onion, cut into slivers
1 c. frozen peas
(Not included in the above but I wish it had been) 1 cup julienned carrots
3 tbsp curry powder
1 tbsp garlic powder
¼ tsp red pepper flakes (For heat. If you don't like heat, omit. If you like a LOT of heat, bump up to ½ tsp)
Non-op conversion: brown rice for underneath
Directions:
Cook cabbage and diced potatoes in chicken broth until tender.
Add in chicken meat, onion, peas, carrots and all spices and bring to a boil. Reduce to a simmer and cook about 15 minutes or until veggies are tender and liquid has reduced a bit.
Meanwhile cook rice according to package directions or in a rice cooker (gotta get me one of these).
Serve hot either alone (will be the consistency of a thick stew) or over rice. Notice in the picture that you can't really notice the cabbage? It's because it sort of melts into the curry and onion making this thick, rich "gravy" that makes the whole darn thing a bowl of heaven…
That being the case, I think this needs a better name than I've given it. Something exotic and intriguing. Any ideas?