–posted by Jen
Most everyone knows, especially those who read the "What Are You Eating Today" thread on the RNY board on OH, that I have cottage cheese and pineapple for breakfast practically every day. Even at two years out, my pouch doesn't handle heavy food too well early in the morning, especially in the heat of summer,
so I usually start off with a protein shake or Click.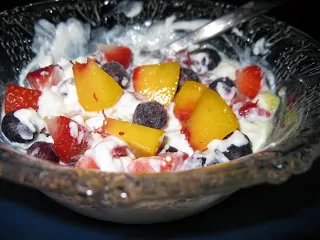 Later in the morning I'll have my actual food breakfast. This morning I woke up at 3 am and have been up ever since, so I had my Click Frapp pretty early. When I went to make my breakfast just now there was only 1 tablespoon of cottage cheese left!!!!! My first thought was "WAHHHHH, I don't wanna go to the store!" Then I heard Nik's voice in my head (scary, but true) telling me to use what I have and make something! So that's just what I did.
Now, y'all have to realize I am something of a purist when it comes to my cottage cheese, I like it mixed with fruit and that is usually IT. But I had some Greek Yogurt, so I said Hmmmm, let's try it. I mixed my sad little tablespoon of pineapple cottage cheese with a single serve container of 0% Greek Yogurt, stirred in some chopped strawberries, blueberries, and peaches, and it was absolutely DELICIOUS! Cool and refreshing, it tasted like Summer on a spoon. So good in fact, this has now been added to my list of "go to" hot weather breakfasts.
The moral of the story: don't be afraid to try new things, you just never know what you may come up with. Sometimes there really are happy accidents!